Has anybody used that Scunchi Steamer for their home cleaning? My husband bought me one for our anniversary, ha! Yeah, I think he secretly wanted one but that's okay. :) I was wondering how you've used it and what worked, etc. Send your thoughts and ideas.
Thanks!

PeggyGV from San Antonio, TX

Answers:
Scunci Steamer Feedback
I don't know if I would have wanted it for a anniversary present or not, but I love mine. It does a wonderful job on tile and grout in the bathroom, cooked on things in the oven come right up, mystery spots on carpets magically disappear, and steams the most stubborn wrinkles out of clothes.
Hubby uses it on carpeting in the cars and on wheels. anything sticky or baked on or that you would probably break several fingernails to get rid of it may work on. It is my first "go-to" cleaning tool and if it doesn't work (but most of the time it does) I haven't used any chemicals that might interact with the next I may use.
cj (03/27/2006)

By cj
Scunci Steamer Feedback
How romantic. Oh well, at least you got a gift. Try buying him what you would like for your next occasion, and see how it works. My daughter bought one and just loves to use it while cleaning in all areas. (03/27/2006)
By Angelfire
Scunci Steamer Feedback
Peggy, I love mine! I used it on my wood trim at the baseboard. I also used it around the edge of my carpet where it hits the woodwork. It really blasts a lot of stuff out that the vacuum can't get.

-I have used it to remove stickers off of paneling.
-I even clean the hamster's cage with it.
-I tried doing our loveseat it removed the stains but needs a chemical to give it a clean smell.
Kim (03/28/2006)

Scunci Steamer Feedback
Oh never thought about using it for the oven. Great idea I will be trying really soon. (03/28/2006)

Scunci Steamer Feedback
I have pets. I use mine on the parrot's cage and the rabbit's cage. It makes short work of sticky stuff. Also for tile grout and in the shower it's great. (03/28/2006)
By valery
Scunci Steamer Feedback
I also love it because I am sensitive to the odors in strong cleaning agents. Val (03/28/2006)

By valery
Scunci Steamer Feedback
I have had mine for 4 years. I use it to clean the scum around the bathroom faucet. It is also good to clean the grates of grills. (03/28/2006)

By Kimberly
Scunci Steamer Feedback
thanks all for your input! So cute! :)
I haven't tried it yet but I plan to now that I know how all of you pro's like it. :)
Blessings! (04/05/2006)

By peggygv
Scunci Steamer Feedback
I bought it, love it, cleaned my tile grout, windows, tubs (mold) now I am taking off some very sticky double back tape off my camper floor that was used for carpet, comes right up. I would not trade this for anything. I love it. (05/02/2007)
By Shana
Scunci Steamer Feedback
Hi, I love my scunci. I have used it to clean my kitchen sink, stove, cabinets, bathroom, floors, and am now steaming wallpaper. Love it! (05/03/2007)

By Jean
Scunci Steamer Feedback
I loved it until it started overheating and leaking water. I have to use a potholder to push the button, and it clicks the GFCI breaker off every five minutes. (05/20/2007)

By Tammie
Scunci Steamer Feedback
I've had mine about 2 years. It worked great but now it is leaking rusty water out of the bottom near where the electrical cord is attached. Looked dangerous to me. I like the convenience of steam cleaning and the fact it doesn't use harmful chemicals, but I think I'll look for a different brand after doing a little online research. (06/24/2007)
By Ron
Scunci Steamer Feedback
I reviewed the Scunci Steamer and I think it works great on clothes but I haven't tried it on upholstery yet.
Here's another review of the Scunci Steamer www.straightfromtv.com/home-garden/scunci-steamer.php (06/30/2007)

By Infomercial products
Scunci Steamer Feedback
I only use mine to steam the wrinkles out of clothes.
Another great steam cleaner I love though, is the Eureka Enviro Steamer. Gets my kitchen and baths spotless, and no cleansers! (06/30/2007)

By Kathleen
By Phil G
Scunci Steamer replacement accessories
i love my steamer! but we need replacement cleaning heads - anyone know how to order them?
Editor's Note: Here's a place that sells them:
www.dutchguard.com/p-SCUNPARTS.html (11/19/2007)

By Kendall B.
Scunci Steamer Feedback
After three uses it will not work. Good luck fixing it. (01/01/2008)

By Jan
Scunci Steamer Feedback
My Scunci is about 2 years old. Worked great at first, but it sat for about 6 mo. during a transitions tim in my life and now will not work. It seems to get hot but cannot get steam at ALL. Anyone have any suggestions? (01/25/2008)

By Sharon
Scunci Steamer Feedback
I too let my steamer sit for a few months and now it will not work. It produces steam but the steam will not come out of the nozzle. Any ideas? (02/22/2008)

By Chris
Scunci Steamer Feedback
For those of you who would like to know where to purchase manuals or parts or even a complete new machine in the box, you may contact me @ 901 230-8037. e-mail jacksmithmier AT yahoo.com I have a source where I can obtain them if needed. Also, for those who report they have stopped working it is probably because the minerals in the water have clogged the outlets. Clean with vinegar and it should correct problem. Thanks (02/26/2008)

By Jack S.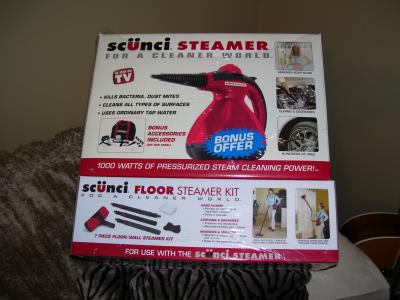 Scunci Steamer Feedback
My mother in law lent me her steamer, it worked fine then I went to use it again about 6 months later, and when it heats up the steam comes out of the wand without depressing the plunger. any idea how to remedy this? Thanks (04/04/2008)

By Theresa
Scunci Steamer Feedback
I was very excited to get my Scunci cleaner. I used it twice and followed all of the storage directions. I went to use it again and the steam won't come out. There seem to be something collected in it; because it builds up steam it just can't let it out.
Please help me. I would like to keep using my scunci for as long as I can.
Thanks,
Maureen (07/07/2008)

By Maureen
Scunci Steamer Feedback
LOVE the scunci. After 18 months of almost daily use - including removing wallpaper from our bathroom and cleaning our grill, to cleaning my kids' toys and the shower grout - it died. The culprit was deposits from the water. Want to purchase another one but they're a little hard to find? Will use distilled water next time to save the life... no repair for product is a disappointment too, but it is a great little steam cleaner. (08/25/2008)

By Brooke
Scunci Steamer Cleaning
Hi everyone,
Jack S. posted (2/28/08) that to clean mineral deposits use vinegar. Do you use 100% or mix with water? Do you let it sit or plug it in? Thanks in advance for any help! (10/18/2008)

By NeNe
Scunci Steamer Feedback
The steps to correct it: The thumb trigger and the sliding brass valve clog up and don't move. So if you use it and press the thumb trigger and no steam comes out, it's probably clogged.
Wait until it cools down. Empty the unit.

1.) Unscrew any attachments and you will see where they screw in at the end, two small Philips head screws on the end, remove them. The red rounded piece at the end will come off.

2.) Now on the top, unscrew the water stopper top where you poor water in.
3.) Now below that is a round rubber piece that surrounds the threaded part where the stopper top screws on to. Grab it with your fingers and lift it up on the sides to remove it.

4.) Underneath here you can see two screws. Remove them.
5.) Now grab the whole top piece that is "black" and pull upward to remove it. you may want to start at the front and work it off. It has a few snaps that will release when pulled. I have done this a few times so don't be afraid to pull this piece off.

6.) now you will see the valve assembly. Take a small hammer and tap on the small rounded "brass" nub that is sticking out of the "trigger side" of the valve. To know if it has released, I usually place my lips around the end that the steam comes out of and blow while pressing in on the little brass nub on the other side. I do this until that nub moves freely and I can hear the air escape out the top from my blowing on it. Sounds funny but it works. If not free, tap it harder, a few more times, until it is free. It will free up eventually. It gets stuck from time to time but this will get you back in business fairly quickly.

7.) move the nub a few times to ensure smooth movement.
Re-assembly

1.) The black plastic top will snap into place. Just line up the trigger spring with the red nub and snap the whole black piece back into place.
2.) Place the two screws back in.

3.) The rubber protector ring is tricky. You will see the underside has a rubber edge that snaps in place. Work it around as best as possible and i usually use a screw driver to push the last little bit into place.
4.) Place the red circular end cap on and the two screws that go with it.

You are all done. Once you do this a few times, you will become a pro OR as the above poster said, use distilled water. (10/21/2008)

By Mend-It-Man
Scunci Steamer Feedback
I've had two of them. Love them, but after using both of the about 7 times, they both stopped working. The thumb button used to release the steam just stopped working.
When it worked, it was great - just melts the dirt away. (12/27/2008)

By Abigail R.