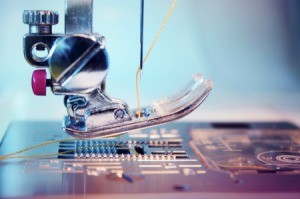 My sewing machine keeps jamming, down in the bobbin area. It won't sew even an inch. I look and see extra thread jammed down there by the bobbin, and have to yank it all out and start over, but it keeps jamming. How can I fix this?
Thanks!
DJ_DJ
Answers
By zballoongirl (Guest Post)
April 5, 2007
2

found this helpful
Best Answer
Two things come to mind.
First, check to be sure you have threaded the machine correctly. It's easy to do the threading process in the wrong order or wrong direction. Consult the manual to be sure.
Second, on my (admittedly old) Kenmore machine, I have to hold on to the ends of the threads when I first start to sew a seam. If I don't hold them (loosely), the top thread gets drawn down into the bobbin area and causes a huge mess. I only need to hold the threads for the first few stitches.
Good luck with this!
Patty
By Amber (Guest Post)
April 5, 2007
0

found this helpful
Best Answer
1. Check for fuzz and use the brush to remove it
2. Make sure the thread take up lever (hook that goes up and down) is threaded. Mine did the same thing and somehow the thread got loose while sewing.
3. Oil the machine as per manual
4. New needle if the others don't help
Hope those help.
By Marna (Guest Post)
April 7, 2007
0

found this helpful
Best Answer
Sometimes machines need tune-ups, just like a car. But try this first: Take the bobbin out and try pulling on the thread. Does it come off the bobbin easily or seem really tight?
If it seems really tight, on the side of your bobbin, there should be a little tiny screw for which you have a screwdriver somewhere. In teeny tiny increments (like 1/8th of a turn at a time) loosen the screw, put it back in the machine, thread, and sew and see what happens. You may need to do it a couple of times, but only do litle, little, little turns.
If this does nothing, chances are the whole bobbin assembly is out of alignment and the machine needs to be serviced. I have my Bernina "tuned up" every two years.
By MoMo (Guest Post)
May 8, 2007
0

found this helpful
Best Answer
I had the same problem last week with my Kenmore machine. It's fairly new and I haven't had any problems except what you're talking about. I was working on my prom dress last week and I couldn't sew more than a few inches. I was about ready to take the whole machine apart after a few hours (I love taking things apart anyway, but only three days before prom...), then I watched my needle (without thread) very closely and noticed that it was knocking on some of the interior metal.
I finally realized that I was using a needle that was way too weak for the fabric density and it was being bent just a lil' too much. As soon as I got a thicker needle, I never had another problem with it. I went through three brand new needles before I figured this out. So you may just need a thicker needle. Hope this helps.

July 11, 2011
1

found this helpful
Best Answer
I want to say thank you so much for all the veterans' comments posted to the thread. I'm a newbie and I've learned so much. Apparently my issue was my bobbin itself, I had the taller one in my machine and that's why it kept jamming.
Thanks again for all your help!
Answer

this Question
The fabric does not seem to advance on its own. The thread on the bottom becomes a mass of jumbled wad of thread. The machine is two days old so I'm a bit disappointed that after one day of sewing this would happen. After reading other posts I rewound the bobbin, rethreaded the needle, (which is a pain in the butt too, I don't like the automatic needle threader") and adjusted the tension, and cleaned under the plate. I have not oiled it yet. Could it need it after one day? Suggestions?
By Margaret from Renton, WA
Answers

November 9, 2014
0

found this helpful
Best Answer
Definitely shouldn't need oiling this new in its sewing life! More than likely the real problem is loading the bobbin - incorrect seating will cause the thread nest you're describing.
Your machine uses the 'front-load' bobbin system and it's one of the very hardest of the bobbin systems to load and seat correctly! Open this pdf of the user manual on your computer and go to page 13, enlarge the diagram and practice loading the bobbin correctly until you get it right - don't be discouraged because nearly everyone has this problem with the front (or equally pesky side-load system) loader. You might also consider going to the shop where you bought the machine and asking for some in-store tutoring.
www.singerco.com/.../b6b9dd29432db38eff88956cbaf2a6bf6185640c...
Or you could take the machine back and exchange it for a top-load (practically jam proof, I won't sew on anything else!) system. A comparable machine to the 2277 is the Singer Talent 3323 (one-step buttonhole, a feature I highly recommend!). You'll love it, it has all the features of the 2277 without the front load bobbin system!
Answer

this Question