(Guest)
Gold Post Medal for All Time! 846 Posts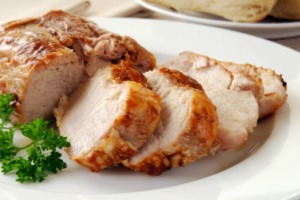 I can't remember where I found this recipe long ago, but it's one that sounded so yummy to save and try in the future. Well, my friend Linda asked last week if I had a slow cooker pork roast recipe and she decided to give this recipe a try, untested, Her review was: "The honey mustard was a very good sauce and the roast just fell apart it was so tender!" Thanks for the taste test, Linda. Since I know it must have turned out delish, because she wouldn't fib, I am sharing it with you fellow TF Family Members :-)
Oh, and you know I am not going to be able to resist cooking it for myself much longer now! I did forget to ask her if she cooked it on low or on high but I am assuming low because the slower the cooking the more tender ;-)
Ingredients:
2 pork tenderloins, about 1 lb. each
salt and pepper, to taste
1 tsp. minced garlic
4 Tbsp. Dijon mustard
2 Tbsp. honey
2 Tbsp. brown sugar
1 Tbsp. cider vinegar or balsamic vinegar
1/2 tsp. thyme
1 Tbsp. cornstarch
1 Tbsp. cold water
Directions:
Wash and trim the pork, pat dry, sprinkle with salt and pepper, and place pork in the slow cooker.
Combine garlic, mustard, honey, brown sugar, vinegar, and thyme in a small bowl, pour over the pork, and turn pork to coat thoroughly. Cover and cook on low for 7 to 9 hours or on high for 3 1/2 to 4 1/2 hours.
Remove pork to a plate, cover with foil to keep warm, pour the slow cooker juices into a saucepan, bring to a boil over medium heat and simmer for 8 to 10 minutes, or until reduced by about one-third.
Combine the cornstarch and cold water in a small bowl, whisk into the reduced juices; cook for 1 minute longer and serve pork sliced with the thickened juices.
By Deeli from Richland, WA
Read More

Comments

Can I prepare pork tenderloin on high in a crockpot or does it have to be cooked on low?
By Sherri Lile from MO

Answers

(Guest)
Gold Post Medal for All Time! 846 Posts
April 20, 2010
0

found this helpful
Yes, you can but for a nice tender and juicy meat it's better to cook on low for more hours. :-)

April 20, 2010
0

found this helpful
Crockpot Mustard Glazed Pork Loin
Ingredients:
1/4 cup grainy mustard
6 TBS apple jelly
2 TBS dark brown sugar
2 TBS extra virgin olive oil
1 garlic clove, minced
2 tsp minced fresh thyme leaves
1/2 tsp salt
3/4 tsp pepper
1 boneless pork loin roast, 3 1/2 - 4 pounds
Instructions:
Whisk mustard, jelly, sugar, oil, garlic, thyme, salt, and pepper in medium bowl.
Reserve 1/3 of mustard mixture for serving.
Coat meat completely with &frac; of remaining mustard mixture.
Place in Crockpot.
Cook on low for 8 - 10 hours.
Transfer pork to cutting board, tent with foil, and let rest 15 minutes.
Temperature should rise to 160ºF.
Pour accumulated juices into reserved mustard mixture and whisk to combine.
Cut roast into &frac; slices, transfer to platter, and spoon mustard mixture over top.

April 21, 2010
0

found this helpful
This is the best meal to ever come out of my crock pot! I tweek the sauce a little to make more. I serve this over rice with steamed broccoli. Tastes very Asian.
San Francisco Pork Chops
Ingredients
1 1/2 lbs pork chops
1 tablespoon oil
2 teaspoons oil
1/4 cup beef broth or sherry wine (I use red wine)
2 tablespoons brown sugar
1/4 cup soy sauce
1/4 teaspoon crushed red pepper flakes (optional)
black pepper, to taste
2 cloves garlic, minced
2 tablespoons water
2 teaspoons cornstarch
Directions
1Heat 1 Tablespoon oil in skillet, and brown chops on both sides.
2Meanwhile, combine the 2 teaspoon oil, broth or sherry, brown sugar, soy sauce, red pepper, and black pepper.
3Add garlic to pork chops, and pour sauce mixture over everything.
4Cover and simmer 30 minutes, adding 1-2 Tablespoon of water if needed to keep sauce from cooking down too much.
5Turn chops once.
6Remove chops to platter.
7In pan, stir in cornstarch dissolved in 2 Tablespoon of water.
8Cook until thickened.
9Pour over chops and serve.
Answer

this Question

I have a rotisserie flavored pork loin I would like to cook in the crock pot. I'm just not sure what liquid to add to the crock pot.
What goes good with rotisserie flavor? Please help.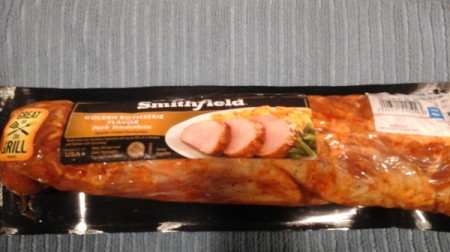 Answers

April 23, 2017
0

found this helpful
i dont use liquid while cooking pork loin in a crock pot, i start out with a stick of butter and a large onion sometimes two onions , cutting the onion into chuncks, so first i put the butter and the onions in the pot , then i put the loin on top and set it in high, for bout 2 1/2 3 hours , the i take the loin out for a minute, the loin and onion and butter, made a terrific broth, so, to that i chunk up some potatoes and carrots and put in the broth then set my loin on top, and season and cover and cook til potatoes and carrots are done, the seasoning i used was mrs dash and i coated the loin with a generous layer, its very good, and is one of our favorite dishes , when the potatoes and carrots are done , you should be able to move the loin to a platter, and slice, up your desired portions
Answer

this Question