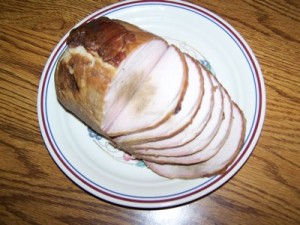 A very moist and tender loin, and oh so tasty!
Ingredients:
Marinade

1/4 cup soy sauce
1/4 cup bourbon
2 Tbsp. brown sugar
2-3 lb. pork tenderloin

Optional Mustard Sauce

1/3 cup sour cream
1/3 cup mayonnaise
1 Tbsp. dry mustard
2-3 green onions, chopped
Directions:
Mix first 3 ingredients and marinade your pork for several hours or overnight turning occasionally. I like to inject some of the marinade in each end and the middle when I first mix it up. I use a gallon plastic bag to marinade in that way I can work the meat with my hands.
A couple hours before you are ready to cook the loin set it out on the counter to come to room temperature. As with any meat it is better to bring it to room temperature before cooking, it keeps the meat from shrinking as much.
If cooking in your oven, bake at 325 degrees F uncovered until the meat temperature reaches 150 degrees F - approximately 1 hour. Baste occasionally. Remove from the oven, wrap tightly in aluminum foil, and let it rest 30 minutes before slicing thin. Serve with the mustard sauce.
I cooked mine in our smoker for about 1 1/2 hours until the internal temperature reached 150 degrees F over hickory chips I had soaked 15 minutes and had water in the water pan. Removed and let it rest as I would if cooking in the oven. You can see where I injected the loin before I smoked it in the photo.
Source: Cooks.com
By Ann Winberg from Loup City, NE
May 27, 2010
0

found this helpful
Here are planned leftovers for easy summer cooking.

Marinate a large Pork Tenderloin for the grill with your choice of marinade (bottled or homemade) - we like to combine balsamic vinegar, rice vinegar, orange juice, fresh rosemary and black pepper. Grill the tenderloin. Serve hot off the grill with potatoes and cabbage salad.
Slice and chill the remainder, and serve the second night in tortillas with shredded cabbage mixed with some salad dressing.

Keeps your kitchen cooler and you only have to heat the grill once, so you save on grill fuel!

By QueenBeeCrafts from Rochester, NY