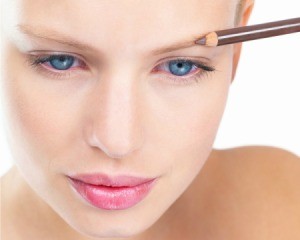 My lifelong quest for natural looking, long lasting eyebrows continues. It would be cute if I was blonde or light red, but my hair is a medium red and so I look plain as a piece of paper w/o color on my invisible sparse eyebrows. I have used every shade of pencil, powder and gel but am still not achieving the look I want.
I heard there is a new brow marker out. That both scares and intrigues me. Also, I've heard Rogaine can be used for brow regrowth - but, heck, its expensive. And I once saw someone with permanent eyebrow tatoos - or should I say two orange tadpoles. Is there any hope or should I just resign myself to my fate?
Signed, Pale and Plucked in Pennsylvania
joynchocolate from Landisville
Answers

January 3, 2008
1

found this helpful
Best Answer
If none of the excellent feedback already given helps, you might reconsider the permanent eyebrow tatoos, maybe from a different salon than the place where the gal with the orange tadpoles got hers. A friend of mine does it and hers look fantastic. Hers aren't permanent, though; she has to get them redone every so often but they look really good and although they do fade, they fade so gradually that no one really notices, both before and after each re-do. Good luck!
By Rebecca (Guest Post)
January 4, 2008
0

found this helpful
Best Answer
I tweezed my eyebrows to bits when I was in high school, thinking it would look fantastic to have super-skinny, barely-there brows. Not so. I thought they would grow back, but they did not.
I read that you could use Rogaine to regrow eyebrows (recommended to cancer patients after chemotherapy), so I tried it. Yes, it was expensive, but with the amount you use, a can will last you through tweezing them off and regrowing them about 10 times.
Be careful where you put it - anywhere it touches it will try to enhance hair growth (I used a Q-tip to apply it where my eyebrows used to be).
While I was waiting for them to sprout back up, I used Estee Lauder's Eyebrow Pen/Pencil - you can even buy stencils out there so you don't look like a cartoon drawing when you fill them in.
After about 6 months using Rogaine, my eyebrows grew back, but slightly finer and less bushy then they originally were (no complaints there!). I still fill them in a bit and groom them, but it worked!

January 4, 2008
0

found this helpful
Best Answer
My cousin does the tatoo thing - eyebrows and liner. I had to be told that she had it done as it looked very good! But check around for a good place with an even better reputation. My mother is a redhead (white now), but growing up I can remember her dying her eyebrow - just one!
Her whole life she had one white eyebrow. I don't remember what she used, but it was for eyebrows. Or you could try wearing bangs - long bangs that cover both eyebrows! anyway, good luck in your quest!
Answer

this Question
I am nineteen and for long as I've known myself I've never had eyebrows. I feel a little hair when I touch my forehead, but they are invisible. When I was 16 I figured a way to hide it using my bangs, but I'm tired of it. My coworkers and my boyfriend are starting to ask questions, like why they never see my forehead and worse my hairline is really far back and my face is really round. Please don't tell me use eye pencil because I"m kinda dark brown and it's hideous. You can totally see I'm bald. Help me please. My 20th bday is coming and I want a new look.
By desperate
Answers

May 14, 2012
0

found this helpful
Best Answer
Try brushing on a bit of mascara in a colour closest to your hair colour. Apply very lightly as just a wee sweep of the brush along the brow area will be enough to pick up those hairs you can feel.
I think you'll be pleased at what you see after experimenting a bit.

(Guest)
Gold Post Medal for All Time! 846 Posts
May 15, 2012
0

found this helpful
Best Answer
There are special eyebrow tinting kits available at beauty supply stores (such as Sally Beauty Supply) that you could use. It's quick and easy and lasts anywhere from three to six weeks (depends on each individuals facial cleansing products used, amount of time in the sun, etc). I've always used Revlon's 'Roux' brand but there are other kits available. I think another brand name is Godefroy. Just choose a color one or two shades lighter than your hair color.
I'd like to add I hope you will be more kind and confident with yourself regarding your eyebrows and hairline. Two people come to mind regarding wearing their natural lack of attributes (well, what society says are so called lack of attributes) as a badge of honor. Whoopie Goldberg has invisible eyebrows and Sade has an incredibly high hairline and I personally think those attributes make them both look endearing and beautiful because of their confidence! Will add a couple photos here in hopes you will see what I mean :-)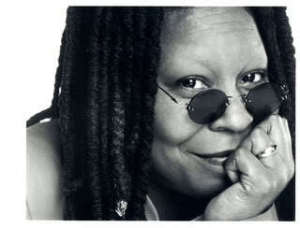 OliveOyl
Bronze Feedback Medal for All Time! 138 Feedbacks
May 15, 2012
0

found this helpful
Best Answer
Many women have sparse brows, they just color them in with a cosmetic. There are powders and various pencils. Practice filling yours in using a very light stroke and experiment with different colors. Some women get permanent eyebrows. They are tattooed on and last for several years.
Go to a department store makeup counter and ask for suggestions on how to do your brows. And if all else fails, hold your head up high and go about your life. We don't all look the same.

vicki hood
Bronze Feedback Medal for All Time! 102 Feedbacks
May 15, 2012
0

found this helpful
Best Answer
A little eyebrow dye or small brush dipped in light brown (it gets darker with skin oils) shadow applied on the little hairs. Nothing wrong with high hairline. It can be beautiful.
Answer

this Question