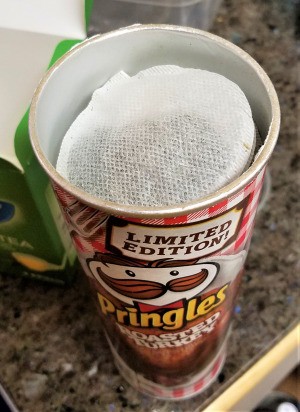 I just got some Tetley Green Tea and when I opened the box, I discovered the bags were round. Makes sense really, if your cups are round, the bags can be, too. No strings, staples or paper hangers. I am in love.
I had just finished a tube of Pringles when I thought "Hmmm round bags and a round container". Yeah, sometimes it just happens that easy. I put a nice paper sign on it and now it's in with my pantry staples. N-JOY!
NOTE: Other things that these wonderful cans are good for are broken spaghetti, just about any kind of pasta, knitting needles, small jars of jelly (gift giving esp'), cookies and crackers. Now, they are cardboard, so they won't hold up to moisture. The other containers like STAX are plastic, but their shape isn't as easy to accommodate some of the above things.