Storing Tomatoes
Solutions
Share on ThriftyFunThis guide contains the following solutions. Have something to add? Please share your solution!
Storing your tomatoes with the stem-end down at room temperature can greatly extend their shelf life. The area on the top of the tomato where the stem once grew provides an escape for moisture and an entry point for bacteria. You can test this by taping the top of the tomato and placing it next to a normal one - you'll see the difference. This could make for a great science experiment... or an extra delicious salad! ;)
By attosa from Los Angeles, CA
If you have a large tomato crop, take a few extra minutes to wash your tomatoes in a weak bleach solution. A tablespoon of bleach to a gallon of water is a sufficient ratio for the solution. Do not rinse them. Spread your tomatoes out on newspaper in a cool, dry place. (We like to use the concrete floor in the basement.) You will enjoy a greater yield, as far fewer of your tomatoes will rot if treated with this mild bleach solution. Wash your fruit before you eat it.
This also works for nectarines, and other smooth skinned fruits. It does not work for fuzzy ones, such as peaches. I started doing this to my store bought fruit, too, when my bag of nectarines molded overnight. Never refrigerate your tomatoes, as this dulls their flavor.
Source: My mother started this when I was a teenager, and it sure made a difference. It was my job to pick out the rotten fruit, and I worked less once we began the bleach solution rinse.
By Janet Sigurdson from Red Deer, AB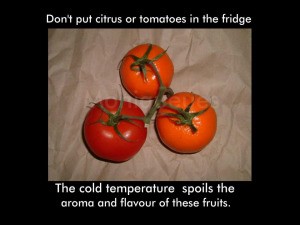 Don't keep tomatoes or citrus in the fridge. The colder temperatures spoil the aroma and taste of these sensitive fruits.
Source: A tip I saved from an online blog.
By Monique from Somerset, UK., Weston-super-Mare
Questions
Ask a QuestionHere are the questions asked by community members. Read on to see the answers provided by the ThriftyFun community or ask a new question.
What is the best way to store tomatoes? I have been told never to refrigerate because tomatoes lose their taste.
Answers
By Anna Brown (Guest Post)
August 20, 2007
0

found this helpful
If they are green and you want to ripen them, put them in a brown paper bag. Or wrap them in news paper and lay in a single layer, keeping them in a cool dark place, depending on how long you want them to keep, but not direct sunlight. If you want them to ripen quickly, place them in a warm place, but not direct sunlight. I find this works better then putting them in the frig. I also just leave them out of the frig. if there already ripe.
By Rasta (Guest Post)
August 21, 2007
0

found this helpful
I just bring them home from the store or in season in from the garden and lay them on the kitchen counter in a basket lined with paper towels top side down single layer and they are fine for several days. Check for bad spots now and then, but I have always done this and it works for me.
August 21, 2007
0

found this helpful
In a basket on the counter.
If they seem to be getting too soft, dice them and freeze for cooking use.
NEVER refrigerate tomatoes. They will have no taste.
August 21, 2007
0

found this helpful
Tomatoes lose their flavor when refrigerated. I always just leave mine on the counter or in the window sill if they still need a little ripening. The only time I refrigerate is if I am marinating them or have put some in a salad.
August 23, 2007
0

found this helpful
I too, just store them on the counter in a paper towel lined bowl or basket. If I have green ones from the garden that I want to ripen quickly, I put an apple, especially a couple of crabapples from my tree (same season) in with the green tomatoes, and they ripen more quickly.
If you have a lot of green tomatoes to ripen gradually, store them in a box or paper lined plastic tray. My grandmother stored them under the bed, but any cooler (not refrigerated) dry place would do. Do not put them in a sunny window. Off the vine, they do not need sun to ripen. It just leads to early spoilage.
Louise, SK Canada
April 10, 2008
0

found this helpful
Tomatoes can be frozen whole. Just wash and put in a paper bag. When you need to use one, just run it under cold water. The skin will come right off. Let it thaw out and use as any other tomato.
Answer

this Question

...
How do I make tomatoes last longer? I have read on TF to use vinegar, but in what ratios?
By Maxine T from Brisbane, Australia
Answers
October 1, 2012
0

found this helpful
When you pick your tomatoes, wash them in a solution of 1 part white vinegar to 10 parts water. This kills the bacteria. Let them dry on their own. This also works for other fruits and vegetables.
August 1, 2018
0

found this helpful
I store my tomatoes, stem side down, on a cooling rack (on my kitchen cabinet) so that air can get under the tomatoes.
Answer

this Question

...
How do I store cut up fresh tomato in the fridge?
By Betty
Answers
August 13, 2014
0

found this helpful
In an airtight container. You'll probably want to use them the next day since they tend to become watery and mushy rather quickly.:)
Answer

this Question

...
Related Content