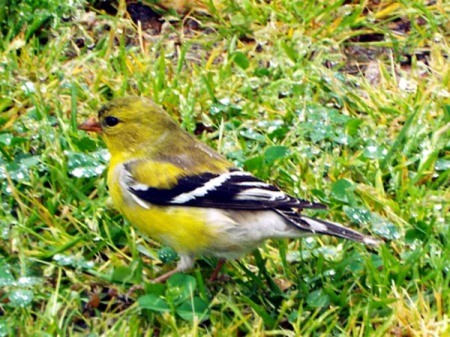 Photo Description
In a lot of species, the male is more attractive. Eh hmm, at least from a human perspective. But then, who's to say our perspective isn't a bit warped. To say the least, it is very limited. All we can see is what humans see.
We have absolutely nothing that will validate our belief that the male peacock, replete with outstanding feathery accoutrement, is more beautiful than his mate. Nothing.
For the past week, my back yard has played arena to hundreds of goldfinches, every day, mostly all day long. The came, lured by the thistle seed I put out for them, only to find an abundance of poa seed as well.
I posted a picture of two males, but gave up on trying to get a decent shot of a female. They all move so quickly, and the fact they are 50 feet away doesn't help matters.
One more try and I did get a fair shot. To me, this female is far more attractive than the male. Not just two strong colors and sharp lines, but several colors, complementary hues blending and fading and re-emerging. A virtual palette for its own sake. The appearance of the female is...well, it's just more interesting.
Take another look. Need I say more?
Add your voice! Click below to comment. ThriftyFun is powered by your wisdom!