The Little Shelf Unit That Could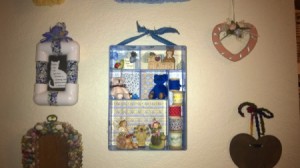 I am not sure what this was, but it will never be that again. I bought it for .29 at a tag sale and have been meaning to renovate it for about 9 months.
Today was that day!

Total Time: 1 Hour
Yield: 1
Supplies:
1 small shelf unit in wood or plastic
5 pieces of pages wall paper or scrap booking pages
1 scissors and hot glue gun
1 card stock or regular paper
5-10 things to fill it with
36 in scrap fabric for hanger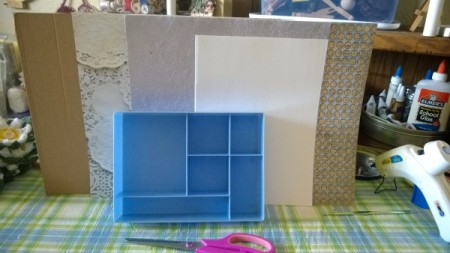 Steps:
Make sure the interior is clean. Then measure the dividers and make a "template" of each section to use to cut the good paper.
Keeping in mind your paper template is going to be larger than the inside, you will need to tweek it a bit and when it falls inside the shape perfectly, you are golden. Then you can cut the good paper. I chose a different pattern for each, but you can use the same if you like.
All you need is a tiny dot of glue on each corner. Using a water based glue won't work as it tends to warp/wrinkle the paper. Then you can fill it with what you want. I glued mine so I can pack it and not have to worry about the contents coming out and breaking or getting lost.
I chose crafty thread spools, teddies, kitties, snails, and such. You can fill it with things like: tiny photos, jewelry like broaches and lockets, etc. Now I glued some denim strips on the bottom and along the sides, tying it on the top. If there was a time to over glue (not messy but a lot of spots) this is the one. This fabric will determine how safe your things are. N-JOY!!
If the finished product is a bit hard to see, please save and zoom in. I have been trying to make sure the photos are not cropped so they can load better. Hope that helps.
Add your voice! Click below to comment. ThriftyFun is powered by your wisdom!
July 5, 2017
0

found this helpful
Very clever! Looks an easy way to make a shadow box out of a variety of things.
thanks for the ideas, Sandi
Betty
July 6, 2017
0

found this helpful
You are welcome Betty. Hope you are cool wherever you are.
July 6, 2017
0

found this helpful
I live in almost central Florida and it is pretty hot but nice breezes under the trees (where I spend a lot of time) and many times I have my laptop if it is too hot to "work".
I really love your postings and usually send them all to my oldest daughter who now lives in Kentucky (she is the crafter in the family) and she has adapted many of your postings/ideas.
Did you say you were moving?
July 7, 2017
0

found this helpful
I am in probably a year. Back to the Willamette Valley to be closer to a bigger city and my daughter. At 62 and with my disabilities, I don't have anyone here that could help so I will be busy preparing and recuperating!
Thanks for the kind words and I hope she likes them, too! Stay cool!!
Add your voice! Click below to comment. ThriftyFun is powered by your wisdom!