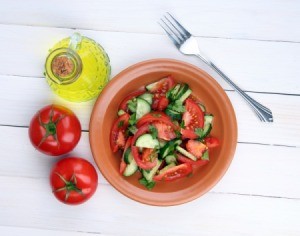 This was my first favorite salad, as far as I can remember. I used to beg my mum to make it for me as a young girl. In Iran, it's popular as a summer salad but I make it year round. It's very healthy and absolutely delicious! Try it next to a protein and/or rice. When the juices from this salad mix with your other foods, it's heavenly!
Ingredients:
2 Tbsp. oil
1/2 cup fresh lime juice (lemon juice is fine, too)
1 tsp. cumin (I like cumin seeds better - if you can find them, use them!)
1 bunch fresh mint, finely chopped
4 Tbsp. flat-leaf parsley, finely chopped
5 Persian cucumbers or 2 English "Hot House" cucumbers, cut into 1/8 inch cubes. Basically you want seedless cucumbers with a thin skin)
4 tomatoes, cut into 1/8 inch cubes
1/2 a small red onion, cut into 1/8 inch cubes
salt and pepper to taste
*It's not traditional, but I use one bell pepper (of any color) in mine. It gives it a fantastic new dimension!
Directions:
Whisk together oil and lime juice. Add cumin, mint, parsley, cucumbers, tomatoes, and red onion then toss to combine. And salt and pepper to taste. Serve chilled.
By attosa from Los Angeles, CA