I'm looking for a natural cure for ear infections in my two dogs.

By JuneBug31 from Ontario, Canada
Answers:
Treating a Dog's Ear Infection Without Antibiotics
Mainly, you need to cut the hair inside the ears so air can get in. Back in the middle ages, they used to use garlic or onion oil for ear infections, but I would wonder if these could cause even more bacteria to form? There are other herbs too. I was told once by a doctor to pour peroxide in my ear every day before I shower (to loosen the wax) so you could try this. But, if it were me, I'd not want my pet to suffer in pain. I'd use antibiotics. Also, if the infection gets bad enough the eardrum can break, making the hearing much worse and possibly even cause deafness or disturbing his balance.

I'd treat the infection first with antibiotics if the vet recommends them, then I'd keep the ear hair very short and put hydrogen peroxide in his ear every day as a preventive. But remember the infection could be behind his eardrum where peroxide can't get to it. (04/17/2009)
By Cyinda
Treating a Dog's Ear Infection Without Antibiotics
You are probably looking for a natural preventative. I would take the animal to the vet and have it looked at. Ask the vet what the triggers are for the ear infections: Mites, allergies, food, etc. Then you can look on the internet search bar for natural ear infection prevention for dogs. Hope this helps. (04/17/2009)

By Robyn Fed
Treating a Dog's Ear Infection Without Antibiotics
Thank you to each and every one of you who responded about finding a natural cure or preventative for ear infections in my two beautiful dogs "my girls". Right now they are both on prescriptions: Otomax ear drops and Cefalexin antiobiotic tables. They see their vet again tomorrow morning (Saturday) at 9:00 a.m. to have their ears re-checked to see if these medications are working.
In the meantime I will continue to seek out other natural cures and/or preventative type things I can do to help them with this ongoing problem. Normally, after they've been off the prescription medications for about 3-4 weeks, these infections return time and time again.

I'm becoming very upset as no one seems to know why this is happening over and over. Thanks again to all of you who replied with suggestions and their thoughts. I can't stand to see "my girls" suffer over and over. Take care. JuneBug31
Nellie, and Shadow thank you too. (04/17/2009)

By Anonymous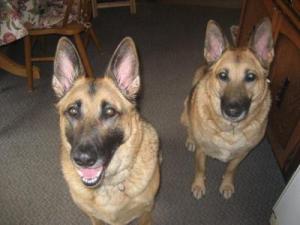 Treating a Dog's Ear Infection Without Antibiotics
I bought a book online at dogyeast.com for $17 and it has cured my dogs and made me realize what a lot of money and rubbish I've put in my dogs over the years. Its totally natural cures and I can personally recommend this. It actually works. (04/21/2009)

By John Parker
Treating a Dog's Ear Infection Without Antibiotics
I took our dog to the vet when she was excessively scratching her ears. I was told our dog had a yeast infection. This new vet gave me a liquid antibiotic to use in her ear twice daily. She told me to use it for two weeks and it should clear up. She said it was no big deal, easy to treat. It didn't clear up so I took her back. I was told to continue the treatment longer. It ended up that I had to take her back two more times, each time paying for a visit plus buying more medication. The vet questioned (accused) me about not being diligent about treating her with the medication properly. I told her that I never missed a treatment.
The treatment never worked. Frustrated, I thought about how I would be treated for a yeast infection and used my medication on her ears, it was a prescribed ointment. I didn't use it deep in her ears, but far enough using my finger. I did this for a few days and it worked. As I understand it you should never put a lot of liquid in a dogs' ear. Unlike a humans' ear that can generally drain on their own, a dogs' ear are like a cup and will hold liquid. Another vet told me that it was very important to dry a dogs' ear since any fluid in the ear may lead to an infection. Our dog had this particular ear problem off and on for awhile. It turned out that she had a thyroid problem that among other problems was causing excessive build up of ear wax and such.
Even though I didn't cure her ear problem, I did relieve her of the itching until the real problem was found. It took us awhile to realize that she was having an under active thyroid problem. Like us, any physical changes, like inactivity, weight gain, etc., in our dog was blamed on her age. I would advise any dog owner to read info about hypothyroidism. I was told that is common in dogs. Our dog's ear problem was just one sign of her condition that we missed. By the way, I went back to our original vet to have her diagnosed properly. I had tried the new vet because she wasn't far from us. The original vet was quite a distance, but sometimes it just doesn't pay for convenience. (04/22/2009)

By mkymlp
Treating a Dog's Ear Infection Without Antibiotics
My son, who is really into holistic veterinary procedures, found that if you use balsamic vinegar in the dog's ears, it not only treats the problem, but also prevents it from coming back. Balsamic vinegar has a different type of acidity than regular vinegar and works like magic. He also is known to give his dog and cat raw garlic cloves every day to keep fleas at bay. Apparently, the garlic scent comes out their coat and insects don't like the smell. Plus the garlic gives the animal's breath a nicer scent than whatever they were chewing on in the yard. (04/22/2009)

By bina2j
Treating a Dog's Ear Infection Without Antibiotics
The book I got at dogyeast.com uses natural apple cider vinegar and it worked brilliantly for me. Does balsamic work as well?
John (05/20/2009)

By John P.
Treating a Dog's Ear Infection Without Antibiotics
We have a Portuguese water dog who, a couple of months ago got a severe ear infection. We believe he got it at a local dog park, when he went swimming in the pond. It was the first time he ever got one that way. I had searched online on different treatments to try and I found that a lot of people said they had taken their dogs to the vet, and tried different things, that ultimately did not work. So, I figured before I go spend a bunch of money on a vet, I would try some of the home remedy methods people suggested, that worked with what seemed like a similar type of ear infection our dog had.

His ear smelled horribly. It was red and swollen, and he was clearly bothered by it. It was goopy and there was some slimy and chunky drainage. The remedy I tried was part water, vinegar, and peroxide. They had said to use alcohol also, unless the ear was bleeding. Which, eventually, his did a little; not much, but enough to not do the alcohol part. At first I diluted the vinegar and peroxide quite a bit with water, thinking I didn't want to hurt him or cause too much pain. I would clean the ear with an ear cleaner that I picked up for about $5 at Petsmart. Then soak the cotton ball in the solution and just drip a little in the canal. Cleaning it alone would help a bit, and the solution seemed to help some to, but I had to do it everyday, in order to keep the infection at bay.

If I missed just one day, I was back to square one. Finally after about 2 1/2 weeks of doing this. I got a little more brave and didn't dilute the solution quite so much. I ended up using about 3 parts vinegar, 2 parts peroxide, to one part water (in teaspoon measurements). I soaked a cotton ball, and dripped the solution in his ear. He never was bothered by this process. He's pretty calm and I made the whole process as enjoyable to his as possible. (I would start by just laying him down, rubbing his belly, and just make it a nice relaxing time for him. I have to say, it's key also to be in a relaxed state yourself during this time. They feed off of your state of mind also).

I think the vinegar was what bothered him most, just the smell, but he never was in pain with it. The peroxide may have fizzed a little in his ear canal, but I just held him down and let it sit for about 10 minutes in there, before I let him up. He didn't fight much about it at all, but he's generally a calm dog anyhow. It finally worked after just that one application. I noticed a couple days later, that his ear was not swollen anymore, and looked much better. Still a little waxy, but no smell.
It's been two weeks since that time, and now I just clean up his ear once a week. It is 100% better. I learned through this research and process, that dog breeds that enjoy swimming and that flopped ears and especially hairy floppy ears, need to be cleaned after swimming and generally, on a regular basis. He's 11 years old, and never had an infection before, but it only takes once I guess. So, now I know how to help prevent it now, and how to treat it if it ever returns.
I got this info from this website. So thank you to all of you who post your suggestions. I'm sure there are several others that work as well. That was just the one that worked for me. Again, it's just 3 parts vinegar, 2 parts peroxide, and 1 part water. Wish I had done it that strong to begin with. It would have cleared up much sooner. Who knew it would only cost me a few dollars to clear it up. Amazing. Hope this helps. (06/07/2009)

By tberg