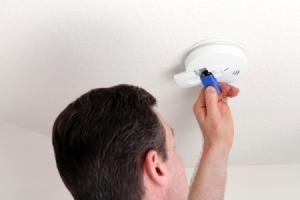 I had the same issue. My detector beeped loudly once a minute; and another one beeped once a minute, so beeps were heard every 30 seconds from 2 detectors. I vacuumed the units, turned off circuit breaker, disconnected wire unit from detectors, replaced batteries, held test button with battery out and then with battery in. None of this helped. All detectors had green solid light. I tried to solve all day and got a headache of course.
Finally (and this is noted by others too), I checked my plug-in (stand alone, not connected/wired to house or to smoke detectors) carbon monoxide detector (Kiddie brand, bought about 3 years ago; smoke detectors came with new house, now about 8 years old). I had just quickly plugged the carbon detector units into outlets and forgot about them. The carbon monoxide detector was going off! It had a red light flashing. My second carbon monoxide detector (Kiddie, same as this one) was NOT alarming and had steady green light! I unplugged the flashing carbon detector and INSTANTLY all smoke detectors were quiet Yikes! There was no carbon monoxide, I'm not sure why it went off.
So I'd suggest if you have wired/electrical smoke detectors to try unplugging various other things; sensor lights, alarms, small appliances, anything recently plugged in, etc. It might not make sense but it's an easy quick thing to try before trying complicated or expensive solutions, and to avoid headaches! Good luck!