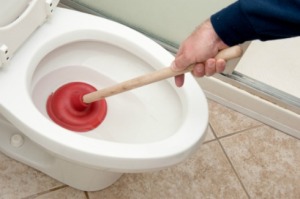 This article features advice about how to unclog a toilet from 2007.
Question:
How can I unclog my toilet?
Toni from Windsor Locks, CT
Answers:
Dawn and Hot Water
I own a motel and I have a lot of clogged toilet issues. I had one toilet that I plunged for seven days straight and didn't think it would ever work right again. I used the squirt of Dawn dish soap and the pot of boiling water poured in the bowl, and it worked! I won't bother buying all of the expensive products any more, this simple technique really works.
By Paula
Dawn, Hot Water and a Plunger
Fortunately the toilet was clean, I bailed out all the water except for a cup or two, filled it with a cup of Dawn soap. I poured in a large pan filled with boiling water from some height so as to force the water down the toilet and push the soap as far down as possible. I plunged for about 30 seconds and left it sit for 15 minutes. I returned and plunged for about 2 minutes and it broke free. I hoped, but didn't think this would work. I'm convinced.
By kcuhC

How do I unclog a toilet?
By tisha from Stockbridge, GA

Answers

March 12, 2011
0

found this helpful
Best Answer
The best way is to purchase a plumbing "snake" from a home improvement store and use it to run down your plumbing line from the toilet to the sewer. It should unblock any obstruction you have in your line. With kids it is always a good idea to have one handy, lol!
Answer

this Question

My son-in-law used the toilet and when he flushed it got clogged. It finally went down, however, it is not flushing properly and there is some gurgling. Now I know that there must be some blockage down in the pipe somewhere. We have flushed numerous times and I have even plunged numerous times, but it just isn't sounding like it should.
I have the type of toilet that has two sides to press when you flush and it goes down really fast and hard. So I know that it's not doing what it should be doing. I don't have a snake; is there something else I can do or use to break up a huge poop?
Answers

January 3, 2017
1

found this helpful
Best Answer
I have had good results using Dawn dish detergent and a kettle of hot water. Pour about 1/2 cup Dawn in the bowl and let it sit for 15 minutes. Bring a kettle of water to a boil and pour the hot water in the toilet. Use the plunger if needed. It has worked for me.
I believe these water saving toilets do not put enough water in the drain to carry all the toilet paper to the septic tank. I see a lot of plungers in bathrooms now and I have seen lots of complaints of toilets getting stopped up.
If you can see the clog, break a switch off a bush and use it to push the clog through.
Answer

this Question