My kitchen is kinda small and yet open. It's only separated from my living room/dinning room by a mini "L" shaped bar. It's all made in a medium dark brown wood cabinets connected to the ceiling, and the tops are the same color with a large square to square line of off white tiles as a strip in the middle around my counters.
Everything is connected with that one dark color and only one full wall that has a door connecting to the laundry room. It's a very old house and we are a young couple. I love colors that make me say "wow". I love this room instead of avoiding the room. My husband likes it (mostly cause he hates change). I need major help in what I might be able to do and get away with it in looking very nice and up to date. Something that will brighten up the room besides white and will look great with what I have in the kitchen. Please help. Thank you for your advice.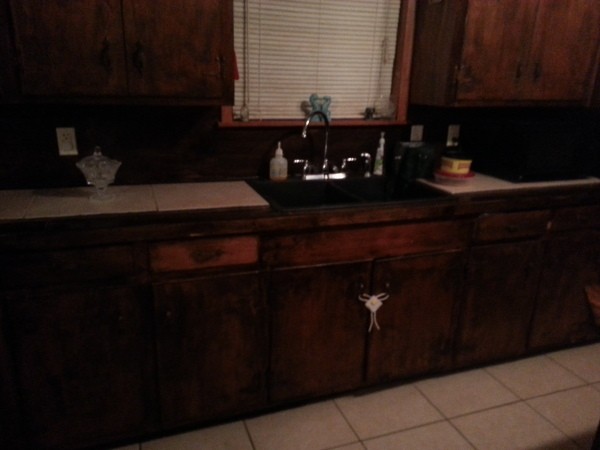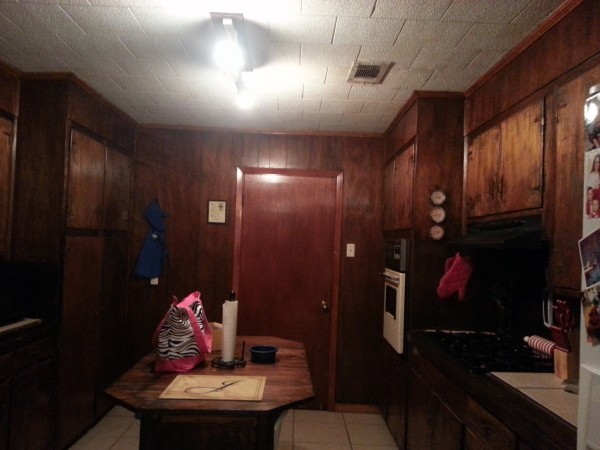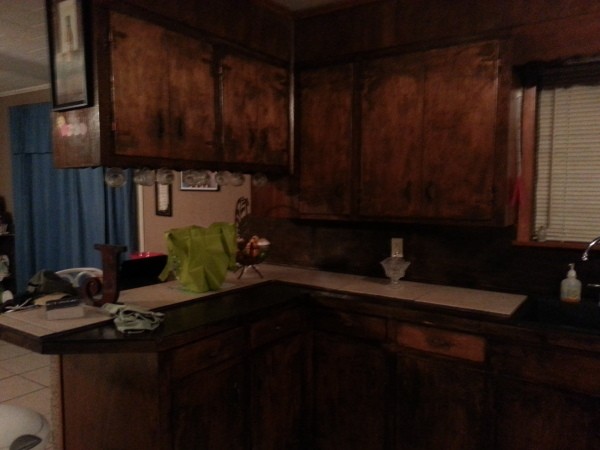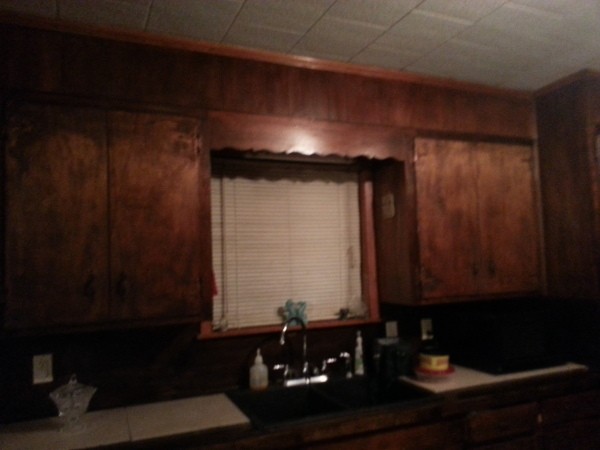 By Kristen J. from Beaumont, TX
Answers
May 29, 2013
0

found this helpful
Wow, it's very dark. I don't know if you are looking to spend any money or just do simple things, but I think it would help if you got rid of the blinds and put up curtains. I'd put some white lace ones under some other curtain of your choice. I actually like dark wood but this is so dark. I wondered how it would look if the cabinet doors had glass panes in them.
If new doors are expensive, maybe your husband or a friend with carpentry skills could change them so they have glass in the front. Then, inside the cabinets you can use pretty floor tiles or just contact paper or shelf liner, and showcase your favorite dishes. Maybe a colorful throw rug or two. You need things to break up the look of complete darkness.
May 30, 2013
0

found this helpful
You have the bones of a great kitchen! I love that wall oven installation, and the expanse of worktop especially. I lol at your '...kinda small...' because here in the UK we'd call your kitchen rather large:)
The most budget-conscious way to a 'new' kitchen is through paint and fabric. I see you have a light mocha paint on the walls in the next space-have you thought about painting the walls in your kitchen area that colour (instant brightener without being boring white)?
Then you could paint trim areas the same cream as is in your oven door and worktop (BritSpeak for countertop), and paint the cabinets in the same cream.
Mocha cafe curtains with cream paint on the lovely retro wood pelmet (BritSpeak for valance) over the blinds to soften the starkness of the blinds if you need them for privacy; if you sew you can make the cafe curtains from a inexpensive single flat sheet and have enough left over to make a simple table runner to go along the top of that fantastic island. Maybe enough left over to make some great pot-holders and mitts, too. Use a cream bias binding to tie those all in with your new paint.
I rather like the island-you could paint the top the same cream as the trims-be sure to use a food grade sealer so you can use that as an extra worktop.
Is it an eat-at island or a storage island? If a storage island you may want to at least paint the cabinet doors to tie that aspect in with the rest of the cabinets-it would look lovely. But if it's an eat-at island, I would leave the stain as a contrast-it would look equally as lovely.
If your budget allows, some new cabinet hardware would really add even more style, and a great finishing touch to the kitchen. New hardware can be pricey though. Sometimes you can find enough in a second-hand shop but usually you end up standing in the DIY centre experiencing serious sticker shock!
If you and your husband are creative, though, you can use sturdy flatware (forks and spoons, it's too hard to dull the cutting edge on even a butter knife enough to be safe to use for a handle). You can often find plenty of really lovely matching forks and spoons in second-hand shops to bend and form your own handles-you'll need a clamping vise grip and needle nose pliers to bend and form the forks and spoons, and a metal drill bit to drill the holes to fit the new door furniture (lol, BritSpeak for door knobs and cabinet handles) to the cabinet and drawer fronts.
Thank-you for letting the ThriftyFun members offer make-over tips, this was fun:) Hopefully the ideas we throw out will inspire you and in a few weeks you'll have your perfect updated kitchen. Please post back in and let us know what you went with-pictures would be fantastic!
May 30, 2013
0

found this helpful
Hi - you really are lucky to have such a nice kitchen. I imagine most people looking at your photos would say "Wow" - that would be nice to have. I have a friend that had a similar dark kitchen and not much money to spend on "redoing". They took rope (enclosed) lighting and placed it in several places across the ceiling and down the walls (such as your doorway -across the ceiling and down the wall in the corners at the end of the cabinets).
You would be surprised at the difference this made! Visitors just made compliments on how bright and homey it was. Good luck and post pictures back after you make your changes.
May 30, 2013
0

found this helpful
Although it is lots of hard work, the first thing I would do is to paint the kitchen cabinets. It takes a long time to do it right but you can do it. This is good advice if you do not know where to start. www.thisoldhouse.com/.../video
Read More Answers