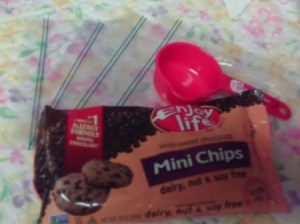 I pay a small fortune for my allergen free chocolate chips. I also snack on them. One day when I needed to bake, I realized I only had about 1/4 of a bag left. I took a leap and used that in the cookies. They were fantastic and no one noticed the "scant" amount of chips. Soon I was taking my newly-purchased bags and dividing them up into 1/3 cup portions, putting them into plastic sandwich-sized bags and then storing them in my chocolate drawer. Yes, chocoholic that I am, I actually have a chocolate drawer.
I get 4 (or more) portions per bag, as each bag has about 1 1/3 cups of chips in them, whether my allergen free ones OR the usual dairy-loaded ones we all grew up on. My only fear about sharing this frugal tip has been that once the manufacturers get wind of this they will begin selling them in 1/3 cup bags for the same outrageous price I have to pay now, about $5.59 per bag! So now I have enough chips for anything I must bake and I can more easily swallow (pun intended) and justify the stiff price I pay for a bag.
Give it a try. Make a batch of your usual, using only 1/3 cup of your chips (on the QT) and see if anyone complains or compliments. But, please, keep this tip hush-hush!