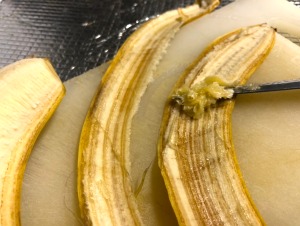 Don't throw out that banana peel. There are many awesome uses for the vitamin-packed peel once you've eaten the fruit from the inside.
Wart and corn removal. Place a piece of banana peel that's a bit bigger than your wart on the affected area. Secure with a bandage and leave overnight. Remove peel the next morning, repeat daily until wart is removed.
Fights acne. Wash your face and dry well. Place a piece of banana peel over the pimple and allow to sit for 5 minutes. Remove, but don't wash off for 20 minutes. Rinse off with cool water. This is also great for large pimples that are inflamed. The banana peel enzymes will calm the bloat.
Whitens teeth. Gently rub the inside of a banana peel against your teeth for a couple minutes. Brush your teeth to remove banana residue. The citric acid can help reduce the yellow look from your teeth.
Soothes bug bites. The polysaccharides from inside a banana peel can help reduce swelling and inflammation from bug bites. This is especially handy with irritation from mosquito bites. Place the banana peel on the bite for 5 minutes, wait 15 minutes, then rinse off with cool water.
Fights puffy eyes. Scrape the white fiber from the inside of a banana peel (as pictured) and apply it over puffy under eyes and dark circles in the morning. Let sit for 10 minutes, then rinse with cool water.