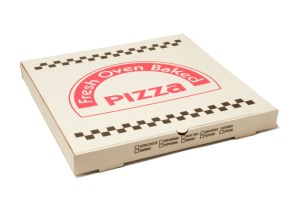 My sister's family and mine have to order 4 to 6 pizzas every time we want pizza to feed our large families, we would like to know if anyone has any ideas on what we can do with the pizza boxes (besides throw them away)? We welcome any ideas you may have. Thanks
Christy from Fulton, MS
Answers
March 31, 2008
0

found this helpful
Best Answer
My son and I eat a lot of pizza. I use the boxes at school for art projects. Perhaps you could donate yours to a school for this. We use them for creating sculptures instead of more expensive foam core. I have also used them as a base for collage. Cut off the lid and the base (and lid as well for another kid) becomes an instant frame for the collage. The kids can decorate the edges as well. They could also be given to the students and just have them use the box as a base for a piece of artwork -- their own creation. If you are eating a lot of pizza, I doubt that you can use up all the boxes on your own.
By Ann (Guest Post)
March 31, 2008
0

found this helpful
Best Answer
I have used them to make stepping stones. Tape the corners to make them stronger. I laid tile pieces to make a pattern or picture. Just be sure to have the bottoms of the tile facing you so the pretty side will be on the top of the stepping stone when you are finished. And if you write anything, write it backwards. Then mix up your own cement and pour into the box. Wait a day or 2 and tear off the box. Will take a few more days to completely dry.
By Amber (Guest Post)
April 1, 2008
1

found this helpful
Best Answer
I found a great idea for cheap decorating. I took a few and taped them shut, then covered them with fabric and hung them on the wall. They look like the expensive wall hangings from Pottery Barn, which are fabric covered canvas, but this works just as well! :)
April 7, 2008
0

found this helpful
Best Answer
California Pizza Kitchen uses pizza boxes as "canvases" for their displayed artwork. Maybe a local preschool could use them for an art project. You can also shred them somewhat and use them for composting (or see if a local school has an organic garden project)
By Annie (Guest Post)
April 8, 2008
0

found this helpful
Best Answer
I am a rubber stamper and I always had a problem with storage. I now reuse the pizza boxes to put the stamps in, label the outside of the box and stack them up.
April 8, 2008
2

found this helpful
Best Answer
I use them in the garden, opened up, as weed blocks in pathways, then cover them with leaves or pine straw.
The recycling centers might take the top part if food hasn't touched it.
Answer

this Question