Uses for Placemats
Solutions
Share on ThriftyFunThis guide contains the following solutions. Have something to add? Please share your solution!
I use plastic place mats from the dollar store for this. They are usually durable, come in fun patterns, and they are easy to cut. They work best in drawers, but I've had success on smaller shelves with them. You could glue them down, but I usually cut them to fit snugly in place so they can be removed and washed.
Woven placemats or tapestry pieces are great to use instead of doilies on the arms of stuffed chairs or sofas to keep them from being soiled.
By pamphyila from L.A., CA
I use the vinyl place mats (one in each animal's cage) for a place to lay that is not wire. The wire can be bad for their feet. I had thought to put a couple squares of vinyl floor tiling, but the place mat idea is less expensive and easier to find and replace. It is also a cool place to lay in the summer. My rabbit and ferret love it.
By Robyn Fed from Hampton, TN
Since recently moving, have misplaced a plastic cutting board. Went to the dollar store and purchased a plastic place mat, (not the kind that has foam on the back side) and I use this place mat for any cutting of vegetables/meats, etc. When the place mat becomes too used, just toss and get another. Yesterday I was able to purchase 4 new ones for only $1

By Czechlady from Yakima WA
I keep a poly/cotton washable place mat under my dogs bowl to keep the floor clean where she eats and drinks. She tends to flick food out of her bowl when she eats, this way I can wash the place mat and replace it with a clean one instead of scrubbing the floor around the dog bowl all the time. You can usually find washable place mats in a dollar store.
Source: I had seen doggie place mats with rubber backing in the store and knew that the rubber backing would deteriorate over time so I decided to use a regular washable place mat instead. I guess it is my own idea.
By Luv to Cook from NC
They used to put doilies at points of wear on chairs and sofas. For a modern take on that, I use tapestry placemats to put on the edges of an easy chair where the arms have gotten dirty and worn. (On another chair I use some pillow covers I found.) You can tuck these into the space between the chair and the cushion to anchor them, or even secure by spraying adhesive and gluing the mats down. It makes the chair covers wear that much longer, and are a colorful addition to your decor.
December 13, 2012
0

found this helpful
This is a guide about crafts made with placemats. New or recycled placemats can be used in many craft projects.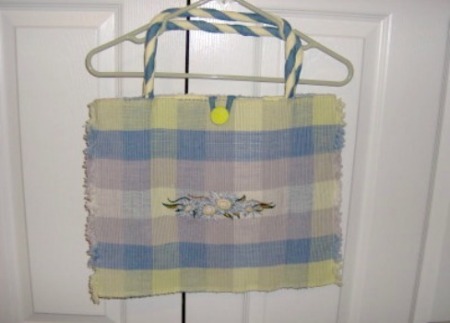 Related Content