Uses for Plastic Wrap and Aluminum Foil Boxes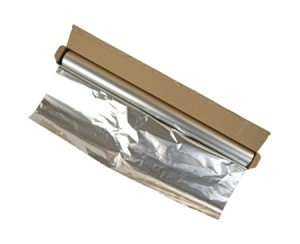 Avid recyclers try to find a use for most everything that comes through their home. These boxes with their serrated metal cutting strip removed can be used for storage, packaging, as organizers, in crafts, and more. The metal strip itself also has many reuse capabilities listed in this page.
Solutions
Share on ThriftyFunThis page contains the following solutions. Have something to add? Please share your solution!
Here are some ideas for reusing Plastic Wrap and Aluminum Foil boxes. Post your ideas below!
Comments
July 8, 2004
0

found this helpful
Top Comment
I cut out the serrated edging off the boxes of foil, plastic wrap, etc., and cut them in different sizes. I use them to scrape gum stuck on the floor or shoes or for other tough gross things when I clean. I also keep one in my purse and in the car. You can also glue one to the outside of an empty can and use it to cut round cookie shapes or biscuits. I use a tuna can with both sides cut out and spray it with Pam and the dough comes out easily. I use a can of deviled ham for smaller circles.
By tiny bop
July 26, 2004
0

found this helpful
Top Comment
I have yet another use for the serrated edges that I cut out of the boxes of foil or plastic wrap. I cut them into different sizes and use them for scraping up hard pieces of dirt off the floor.
But the most rewarding use for me was to scrape the burnt part off toast.
It did the best job ever! It was also really quick. 2 passes with an edge the same size as the toast was all it took. I usually burn my toast often: but from now on I might even do it on purpose just for the satisfaction! lol
By tiny bop
August 4, 2004
0

found this helpful
Top Comment
I had trouble seeing what was in the small jars I had in my cupboard as they were all on the same level. I taped together four empty aluminium foil boxes in an L shape. I've put this in the back of my cupboard and it acts as 'staging' and lets me see the large part of the labels on all the jars! You could go one further and add another three on the bottom to give you another tier!
By chickybiker
January 15, 2005
1

found this helpful
Top Comment
I have taken the cutting edge and glued it on the inside of my fishing tackle box. No more hunting for a knife to cut line.
The box itself I have used with the empty roll inside to store spare needles ,small nails an variety of tacks ,just so I don't have to go looking through a junk drawer for them.
Save the box from your aluminum foil and you can use it to make this useful desk organizer. This is a page about how to make an aluminum foil box desk organizer.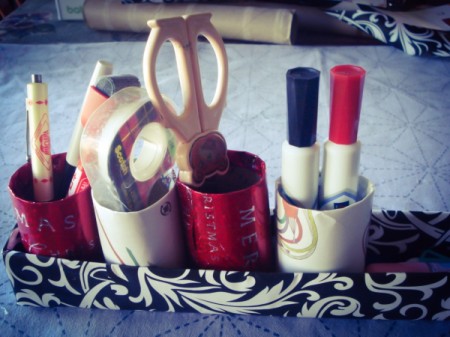 Categories
Pages
More
Categories