Iceskater
Silver Answer Medal for All Time! 320 Answers
January 26, 2021
0

found this helpful
Best Answer
Here is the closest design-similar I could find for you. tinyurl.com/yylb5s5t.
However, yours appear to be maple with some difference in details. (Armless Russel Wrights and/or Young American chairs seem to average around $300 apiece in excellent condition; see tinyurl.com/yxt9q6o6 for even higher.) tinyurl.com/yxt9q6o6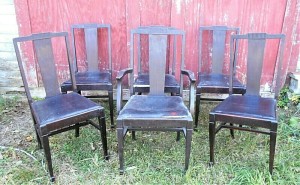 January 31, 2021
0

found this helpful
I do not feel that you can judge the value of Conant Ball furniture by the sold price of another similar style because style in high quality furniture is probably one of the most important things in the value of the items.
This set is for sale on eBay (and has been for a long time) but it is not the same style and maybe not the same condition so, in actuality, it has no relevance to your chairs.
www.ebay.com/.../264872333613?hash=item3dab9f112d...
I did notice that I'm seeing a much larger quantity of Conant Ball chairs listed for sale than I can remember seeing in past research.
Maybe if is a sign of the times but style is what people search for you need a very good description of your chairs and several very good (uncluttered) pictures of your chairs if you wish to ask for a high price. Condition is most important and needs to be accurate and, to be honest, I do not think you will find very many pieces that are in 'mint' condition. Mint is supposed to be in 'new' condition and most people are skeptical when they see 'mint' condition listed by a seller.
Your area is important as most sellers are listing their pieces as 'local pick up' and/or freight shipping. Quality furniture may sell in your area for high prices but could very easily not sell at all in another area (some areas do not look at brand names when they buy).
I believe if you want top dollar for your chairs you will need an official appraisal to prove there true value.
There are free appraisal sites online and some that charge $19-$35 but a free appraisal would be a good start. You can submit to several sites but you will need pictures of both chairs (or ask about just one). Here are some links to check out but you can also search for your own.
instappraisal.com/.../appraisal
www.whatsellsbest.com/.../antiques.html
www.valuemystuff.com/us
You may also find some information on this site:
www.thriftyfun.com/Finding-the-Value-of-Conant-Ball...

February 1, 2021
0

found this helpful
chairs were sold last week at auction, 750.00 for pair. Thanks for all the replies. except the one guy trying to use the site for profit by soliciting appraisals!

February 1, 2021
0

found this helpful
Sorry that you feel that way about free sites when someone has a valuable item.
Free is free and suggestions about price is what you were asking for.
Sorry if my suggestions offended you.

Pghgirl40
Bronze Feedback Medal for All Time! 196 Feedbacks
February 1, 2021
0

found this helpful
Thanks for posting back the sold value! That is a nice tidy sum! Good to know that this style of chairs has held its value. Just for my notes, are you in the US? Was it an auction house auction? I don't see it on US or UK eBay.

Jess
Silver Post Medal for All Time! 267 Posts
February 1, 2021
0

found this helpful
I'm sorry but I don't see which comment you may be talking about. All the ladies that commented are our regular members who have been faithfully giving their advice for free for many years now.
I'm glad you were able to sell them for a decent amount of money and thanks so much for letting us know how much they went for. This will help other people trying to sell similar furniture in the future.