April 12, 2021
1

found this helpful
There are similar Robin Woods dolls on eBay in prices ranging from $9.00 to $25.00
April 12, 2021
0

found this helpful
There are similar Robin Woods dolls on eBay in prices ranging from $9.00 to $25.00
April 12, 2021
0

found this helpful
I didn't see this exact doll on eBay, but new dolls from this manufacturer have an asking price of around $25.
April 13, 2021
1

found this helpful
The doll market is considered to be in the lower end of collectible items and has remained in this category for several years - the low value is not expected to change anytime soon as the market is flooded with all brands, styles, sizes and most are new in the box dolls.
Your doll is a little unusual but probably not enough to increase her value very much.
Also, dolls seem to be very slow sellers and can remain listed for sale for months/years and may never sell.
Although you may see similar dolls listed for sale at higher prices such as this one:
www.ebay.com/.../274663480648?hash=item3ff3381d48...
But an asking price has very little relevance to the true value of an item as only a sold item will show what someone was willing to pay for that item.
You can check out eBay's sold listings to see what this brand doll is actually selling for. Most dolls are 'new in box' and sell for less than $25. You'll have to judge the value of your doll by what people are actually paying for similar dolls. If no similar dolls are in the sold listings then you can still gain information from the brand of sold listings.
Sold items only show the price paid and do not show how long the doll was listed for sale before it sold.
Sold listings show sales from past several months.
www.ebay.com/.../i.html?_from=R40&_nkw=Kingstate+Dollcrafter...
If you decide to sell your doll, you can start your price higher with best offers considered and if no offers after several weeks than lower the price and wait again or do auction with whatever starting price you wish to accept and see how that goes.
Several very good pictures may help sell your doll.
Thank you very much! Good information.
April 14, 2021
0

found this helpful
You're welcome.
Thanks for sharing your unusual doll.
April 14, 2021
1

found this helpful
Robin Woods has designed dolls not only for her own company, Madame Alexander Company (Alexander Doll Company), but also for many other companies, like Kingstate the DollCrafter, The Horsman Doll Company, The Family Company and others. The molds she used initially were purchased from Associated Dollmakers and were sculpts by Yolanda Bello and Avigail Brahms. As I understand it, Robin Woods lost the rights to use her own name in a legal dispute with the Madame Alexander Company many years ago. Unfortunately, her dolls are not highly valued. Only her collectible and signed dolls sell for $125-130, and a limited edition (250 dolls) for $300. The price of the rest of the dolls varies depending on the size and condition of the doll from $8-10 to $40-50: www.ebay.com/.../i.html?_from=R40&_trksid=m570.l1313...
As for the price of dolls created for the Kingstate the Dollcrafter, it is about $15-40, the price of collectible dolls is higher www.ebay.com/.../i.html?_from=R40&_trksid=p2334524...
I've seen many jesters/clowns created by Robin Woods. As for your doll, I found a doll from the same series, with the same label. In the attached screenshot you can see Kingstate the Dollcrafter "Whimsey" doll, designed by Robin Woods too www.worthpoint.com/.../kingstate-whimsey-doll-designed-robin...
So your doll is 19 inches tall and is not collectible.
Since the size is 19 inches, there is a name of the designer, I think the price of your Kingstate "Staccato" doll designed by Robin Woods is about $30-35 www.ebay.com/.../i.html?_from=R40&_trksid=p2334524...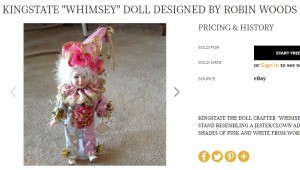 April 14, 2021
0

found this helpful
Thank you so much for the information!