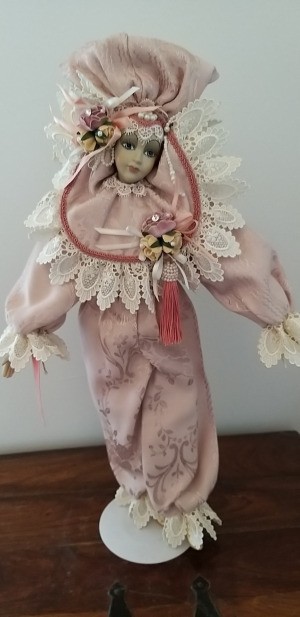 We have inherited some dolls (picture of some of them), and we wonder about the value of these dolls. They are original and we got them from an uncle in the USA.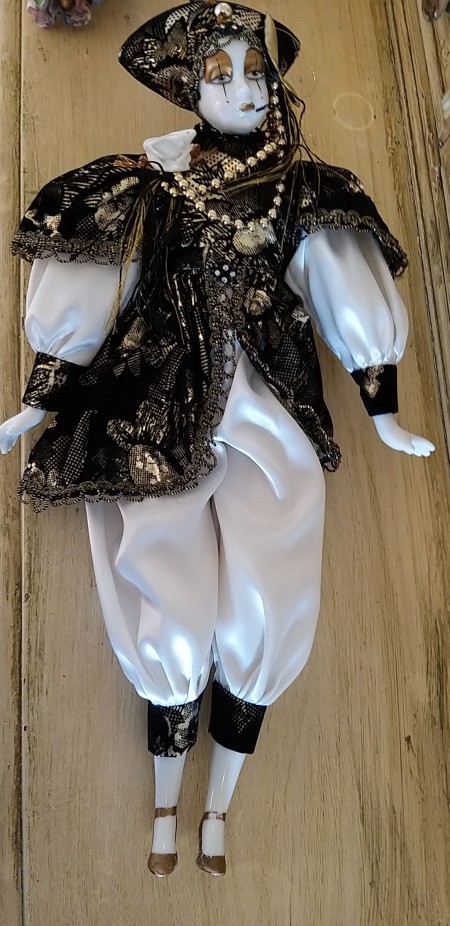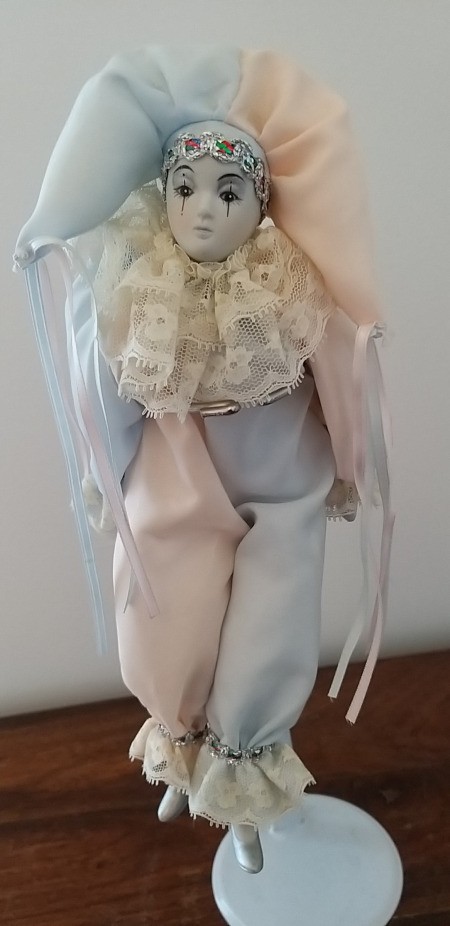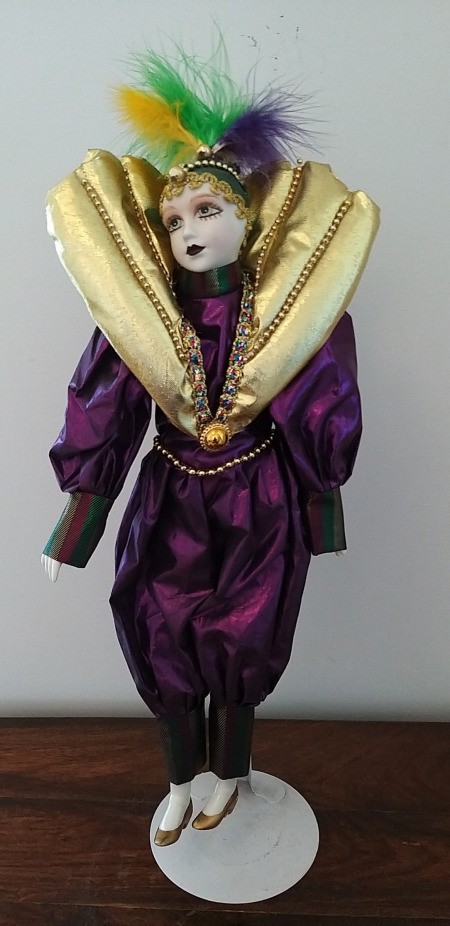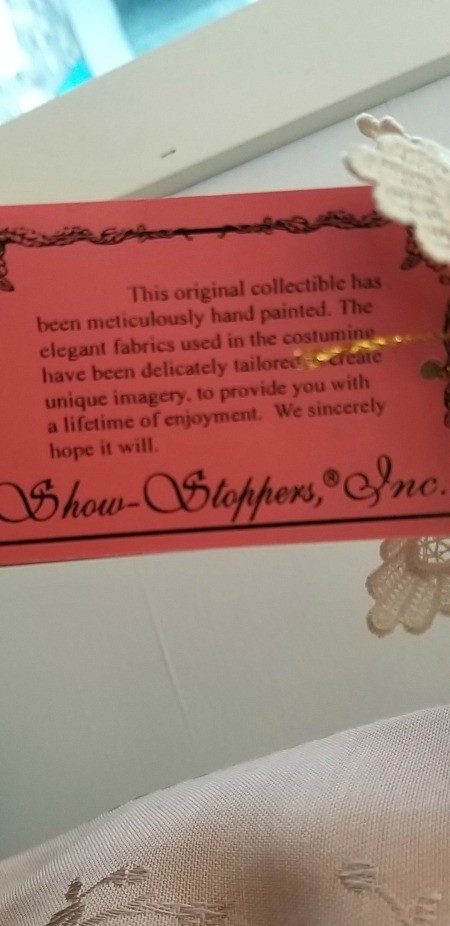 Answers

Judy
Gold Post Medal for All Time! 677 Posts
August 9, 2019
0

found this helpful
Used ones are asking in the $30 range on eBay.

Pghgirl40
Bronze Feedback Medal for All Time! 196 Feedbacks
August 9, 2019
0

found this helpful
Some of Show Stopper brand jesters are selling (SOLD prices, not asking) in the $20 range on eBay, although I am not finding an exact match to your two.
You could always do a 7 day auction starting at 19.99 and see if they go up in price.
The gal in the pink dress seems to be a less popular style--just to clarify--if she is not a mermaid. She isn't is she...I just want to make sure of that, because the brand's mermaids still sell in the in the $40-50 range.
Their Victorian gals sell between $10-18. You would fetch on the high end with the original boxes, on the lower end out of the box and if there are any signs of shelf wear, fading, etc.
Thanks for sharing!

August 9, 2019
0

found this helpful
All of these suggestions and estimates of value are for listings in the USA. If you are in another country you will have to do research to find the value of any dolls.
Show Stoppers usually makes thousands of each style doll and has been producing lower value dolls for many years.
The market is flooded with all styles, sizes, brands of dolls and none are selling very quickly and a very high percentage sell for under $20.
It does appear the mermaid may be the only doll that may be valued at over $50 but your photos do not show a mermaid.
This type doll is known by several names; jester, Harlequin, Pierrot so when searching for your dolls you should search under all of those names.
The other problem is that many people just show them as a 'doll' because they do not know the style name.
I did not find these dolls listed anywhere but on eBay.
You will find many listings with asking prices from low to high but only a sold listing will give you any true current value and I did see dolls sold for $3-$5 plus shipping.
I think that Pghgirl has a good idea about listing them for $19.95 or even higher (plus shipping) to see what type of response you receive.
You can always go in and revise the price if no one shows an interest.
You will have to research any doll with the brand name, doll name if known, size of doll (inches tall), and anything else that describes her.
eBay has a place to check for sold listings in the left hand column.

poehere
Bronze Post Medal for All Time! 105 Posts
August 24, 2019
0

found this helpful
I am not sure where you live so it will make it hard to give you a price in your region. However, there are a few of these listed on eBay and they are for the US. I can tell you the prices they sell for or that people are asking in the US. The dolls are selling for $20 to $30 each.

July 2, 2022
0

found this helpful
I have the exact same jester as you (pink doll). It is a limited edition doll. I have 456 of 5025. Check below the neckline on back. It is very hard to see and I had to get a magnifying glass out.
No idea what the value is but I would assume in the $40 range due to its limited edition.

July 24, 2022
0

found this helpful
I'm a huge collector of these dolls my favorite. Don't resell. What would you take for those beautiful ladies.
Answer

this Question

I came across this Show Stoppers porcelain jester / pierrot doll. Porcelain head, face hands and legs. She is a limited edition doll, 456 of 5025. The marks were really hard to find as the back neck clothing fits very tightly to the porcelain. I have seen other dollars similar to this jester style and they come from the Florence Maranuk for Show Stoppers collection - they seem to all measure around 18" tall.
Doll is about 20" because of the poofy hat. Does anyone know the name of this collection. And also, does anyone know the name of this jester doll? I have been googling for hours and the only one I found identical to her was asking the same questions as I am. Thx for any help.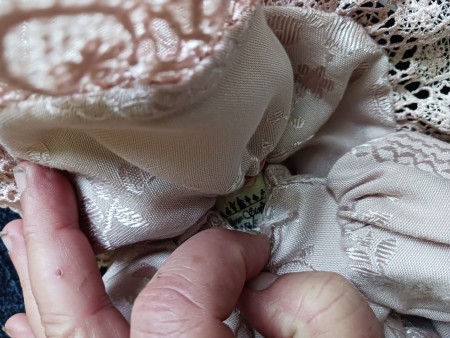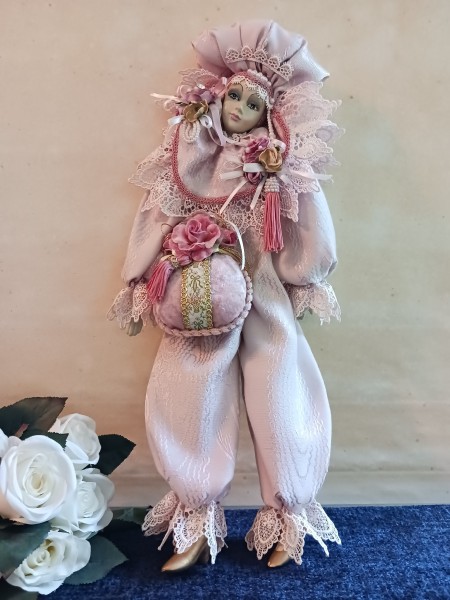 Answers

July 11, 2022
1

found this helpful
Best Answer
I think this Florence Maranuk Collection - Nikki by Show-Stoppers, Inc. - Limited Edition is from the same collection:
The price is $160.
There is a photo with a tag. The tag says the name of the doll "Nikki" and the name of the collection "Florence Maranuk Collection" 
i.ebayimg.com/.../s-l500.jpg
Without the tag, it will be difficult to identify the name of your doll.
The name of the collection is "Florence Maranuk Collection". 
Answer

this Question