Pghgirl40
Bronze Feedback Medal for All Time! 196 Feedbacks
June 24, 2020
0

found this helpful
Best Answer
Can you please show the Bassett marking? It is Bassett furniture or mirror? The furniture company separated in the 1950s or 1960s when they sold off the mirror division to a separate company.
What does the back look like?
This has me fascinated as I am not sure if this is a Franken-piece--where someone cut the front off a sideboard or breakfront or dresser and turned it into hanging or if this was a custom piece Bassett made for a person or a store or maybe to decorate an office or if it really was just something sold as is. I love a good furniture mystery!!
Bassett (both furniture and mirrors) were pretty prolific manufactures so when I see something unusual like this I lean toward custom piece or Franken-piece.
You could, as cybergrannie suggested, call the companies and ask.
1.877.525.7070 - Furniture and Home Decor
276-629-3341 -- Mirror company
The original Bassett started around the turn of the 1900s and then they sold off the mirror division much later. The style looks late 1930s-1940s when painted furniture with floral motifs were popular in the US, but that was copying old French, Italian and Oriental styles...so it is possible it could be older.
Things that have me puzzled are:
1. The brown background looks very streaky--like it was painted or hand stained--but it is hard to tell if that is what I am seeing or just a product of the photograph. Often when I see this kind of streaky--it is a Franken piece.
2. The mirror looks very new (not turn of the century or even 1950s) so I am wondering about that...of course it could be a replacement mirror done at any time in the piece's life.
3. The stenciling looks a bit on the amateur side (to me) as it looks like the stencil was flipped so you have mirror images vs. both being identical. Usually stenciling like this or painting was done with each side being identical.
Are antique/vintage stores open where you are? You may be best served by taking it in and having someone look at it and touch it to tell you exactly what you have.
One last suggestion that may get you a faster answer is there are some Basset furniture Facebook groups. Maybe someone on those site can tell you more.
Thanks for sharing! Please post back what you learn! I am so intrigued.

June 24, 2020
0

found this helpful
Thank you for sharing so much knowledge. I will attempt to post a picture of the back.
It almost appears as if it's not solid wood although it's very heavy. There are wear signs along the edges on the back that make me think this.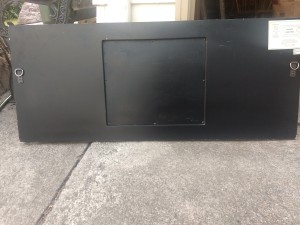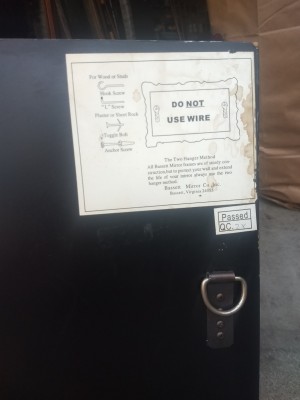 Pghgirl40
Bronze Feedback Medal for All Time! 196 Feedbacks
June 25, 2020
0

found this helpful
Thanks for the additional photos! I think the label is legitimate and this is not a franken piece. Because the state name is spelled out, I think it is probably pre 1963 when states were abbreviated.
I am still puzzled by it since I can't find this exact piece in an of the catalogues I have access to. Perhaps it is a custom piece or a prototype.
Do you know where your father got it from? Are you in VA?
I hope you get more information from the company. Please post back with what you learn! Thanks again! I love seeing neat items like this.

June 23, 2020
0

found this helpful
How do you know it's Bassett?
What type of marking is on the back?
This is unusual to me but I have seen this type of panel - just not Bassett.
Maybe another member, Pghgirl, will see this and add her comments as she has a lot of information about items like this.
You may be able to find someone in your area that can help you but unless they are really good, they may have to look it up but they may also charge you for any information and unless they give you a written appraisal their value would be suspect.
I use free internet appraisal quite frequently and find them to be very reliable but they do not usually appraise items that are valued at less than $500 and I have no idea of the value of this piece.
They require several very good pictures - close-ups also - and the back and any markings.
They will want to know the provenance behind this item so try to find out when and where (city) it was purchased and where you are located. If they appraise it they will send you valuable information that you can use for insurance purposes as well as retail value (if you ask for this) but bare in mind, unless it is really rare or valuable it may be costly to ship and will need to be sold with local pick up only.
This means that your area will have a lot to do with the final value as some areas be good and others not so good for this type of item.