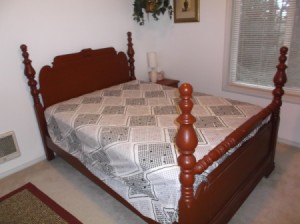 This bed frame was purchased in SE Georgia by my mother sometime in the 1940s I believe and has been in the family ever since. It is some type of hardwood and was probably made in the Carolinas due to their proximity to where she lived. The original color was a brownish-red, but it has been refinished in more of a redwood color.
It is in very good condition for its age (no breaks, chunks, or dents), but probably should be refinished professionally. I love it (my wife doesn't) and we are moving, so I have to sell it. I don't want to give it away if it has any value, but I have no idea if it is worth anymore than firewood. Can you help!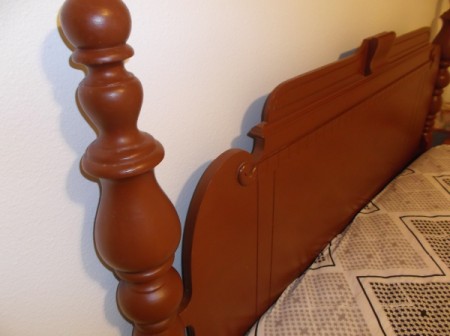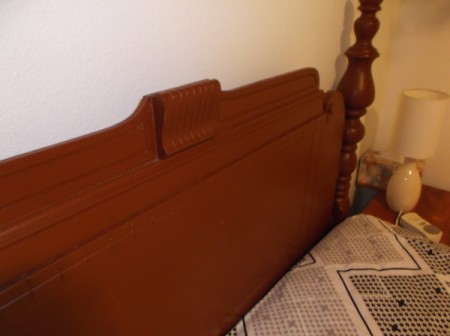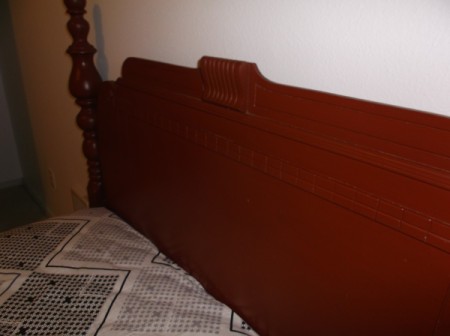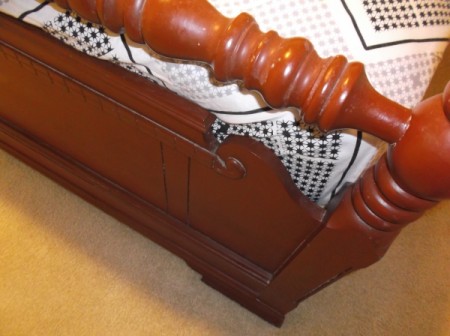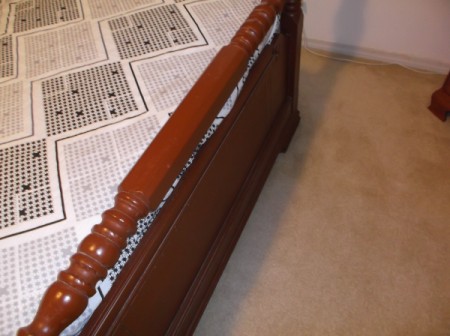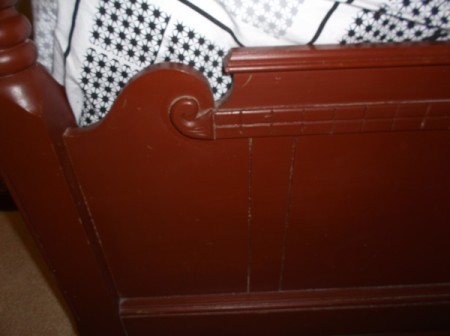 Answers

January 12, 2018
1

found this helpful
Best Answer
My husband is a part time auctioneer. Things from the 40's are not as valuable as many think. At auction in our area, it may go for around $50.

January 12, 2018
1

found this helpful
Best Answer
You have a beautiful bed there! The value may depend a little on the brand of furniture. If it is stamped somewhere visible that can help you determine this it would help you. If it has been painted over, the value is lessened some.
But also..whether you sell it to a private party or through an auction or similar type sale will have some determination in how much you will be able to sell it for.

January 13, 2018
1

found this helpful
Best Answer
Unfortunately, you can't find out who has made this bed or the company. You can always try and find an antique dealer in your area and show him a picture of the bed. Maybe he has an idea about this and can point you in the right direction.
However, beds that were made around 1940 don't bring a high resale value at all. It is a shame this happens, but if the bed was from the 1900's, this would of been a bit better. The bed is around 80 years old and in this case the price at auction would go for $50 to $150 depending on the supply and demand.
Answer

this Question

I have a wooden cot or twin bed frame with mesh springs. Does anyone have some insight as to how I determine the age, value, and/or proper description of this bed?
It has no imprints or tags to indicate manufacturer.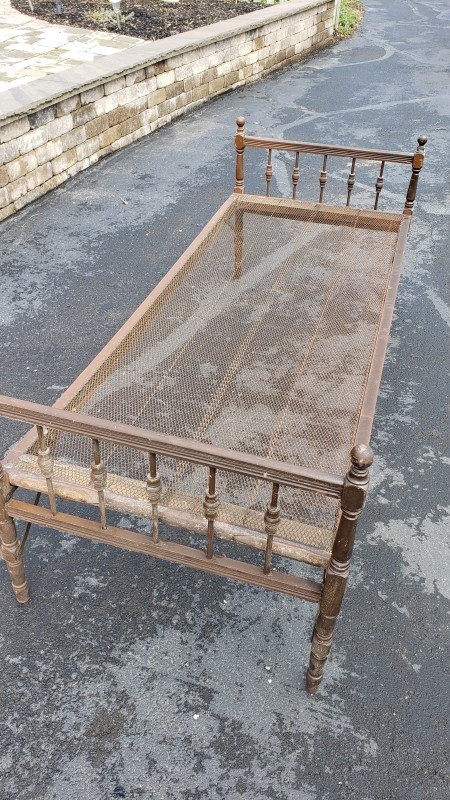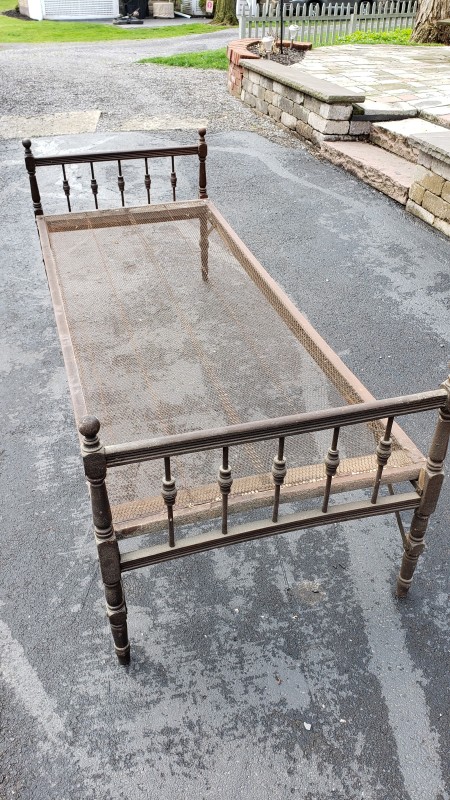 Answers
I'm not sure about this but from the picture it appears (to me) that someone has taken an 'old' twin? foot and headboard and made a wooden frame to fit it.
The wire on top appears to be a type of metal (usually aluminum) and fastened it to the frame. You can see the newer types of metal brackets that were used to fasten the homemade frame to the headboard.
This type of thing was usually done so that bed springs were not necessary and only a mattress was needed.
This is similar types of metal that could be used. (Most people used a wire fencing called 'hardware cloth' and spread a cover over the top (under the mattress).
www.archiexpo.com/.../diamond-shaped-wire-mesh-48676.html
www.archiexpo.com/.../product-91518-1843336.html
As to value - I would have no idea as it just looks like an older bed with a homemade frame to me so hopefully other members will have more useful information.

Ana
Bronze Post Medal for All Time! 140 Posts
May 5, 2020
0

found this helpful
This bed is not pre-1800's when beds were made out of iron. This is a reproduction made of wood and aluminum .Here is some history on types of beds throughout the years.
- In it's present condition you could get up to $200-
www.hunker.com/.../how-to-determine-age-of-an-antique...

Pghgirl40
Bronze Feedback Medal for All Time! 196 Feedbacks
May 5, 2020
0

found this helpful
I tend to agree with cybergrannie that this is a wood worker made piece. My thinking is it was a crib deconstructed and turned into a day bed. Or it could have been two twin headboards, but it has a crib look to it.
As to valuing it, if it is a one of a kind piece, you can ask what you want an take best offer. It is in very well loved condition so maybe a refurbish would give it more value.
Before you do anything, have a reputable vintage reseller look at it in person to confirm what we suspect. They will be able to look at screws and metal connectors which aren't easy to get a good look at via photo.
Thanks for sharing! Post back what you learn!
This does look like a smaller bed (difficult to tell from pictures) maybe a youth bed? Since the pictures are on an angle it's difficult to tell if the two end pieces are the same size (the foot board looks shorter in the picture).
It appears to be in good condition and would probably refurbish nicely.
It is a large piece so the value would have to be adjusted to what is popular in the area.
If you are in to refurbishing furniture then this seems like it would be a great piece to work on.
There are lots of examples of refurbished bed on Pinterest and other sites so maybe take a look and turn this into a beauty - it has lots of potential and refurbished items do sell - sometimes faster than 'original' pieces as people generally like 'one of a kind' items.
Good luck and post back with what you decide to do with this neat bed.

May 30, 2021
0

found this helpful
Your bed frame is ca 1920-- this is the way many chain mesh beds were made- I myself have a Jenny Lind from the 1920's that is made t his same way-- It is original.

July 14, 2021
0

found this helpful
I have the exact same bed. and I have done a lot of research and it seems to be from the 1800 probably from the Civil War.
Answer

this Question