I inherited this cedar chest from my parents and am tracking down the history. Do you know what the value would be for this? There is very minimal moisture damage inside the chest, but apart from that looks like it's in great shape. It has a very strong cedar aroma.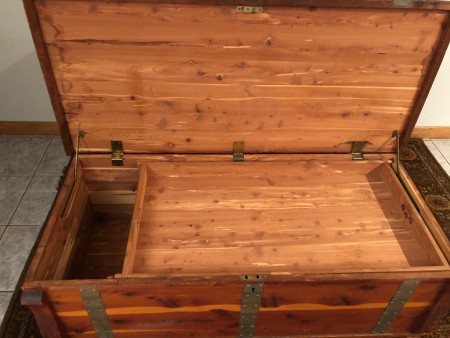 This is the only thing I could find online:
https://www.etsy.com/listing/186431812/larkin-solid-cedar-chest-storage-trunk?show_sold_out_detail=1&ref=anchored_listing&frs=1
Larkin Solid Cedar Chest Storage Trunk Coffee Table Rustic - Metal Banding Accents by Larkin Co. Furniture
Sold
________________________________________
Item details
Vintage from the 1910s
Materials
Early 1900s Rustic Solid Wood, Cedar Chest by Larkin Furniture Co
Solid Wood Red Cedar Chest, Storage Trunk, Coffee Table,
with beautiful Riveted metal Banding Accents...
Great Antique Details & Styling...
Primitive & Rustic...
This Piece Is All Original and is in Fantastic antique Condition
All solid Tennessee red cedar wood planks, quality construction
and check out the great metal banding details :)
Notice how the legs and handles are BOLTED solid through,
not just nailed on.
see pics...
Manufactured by, Larkin Furniture Co...
One of the great American Furniture Companies,
known for their beautiful Quality workmanship...
circa 1910s
This piece could be used as a
Blanket Chest
Hope Chest
Coffee Table
Flat screen TV Console Stand
A beautiful Sitting Bench, etc...
no key :)
A perfect addition to any home or office decor
Classic Primitive Rustic Styling...
Chest Measures: approx
45"wide
19" deep
15" tall
Very Beautiful & in excellent condition !!!
They don't come along this nice very often,
get it before it's gone...
Please see all pics for great details...
Gorgeous Vintage Piece with
Loads of nostalgia and charm !
Please convo us with any questions !!!
------------>SHIPPING IS NOT FREE<-----------------
Item Will be shipped through Greyhound Package Express
CONTACT US FOR A SHIPPING QUOTE
You will pick up the item at the station at your end...
Contact for quote and we will add the cost to the listing for you
before you buy ...
---OR---
if you are in our area, Free Pick-Up is always available !!
at our shoppe :)
Candia Road Antiques
1442 Candia Road
Manchester, NH 03109
Approx. 60 minutes north of Boston MA
You can also visit us on the world wide web at
http://www.CandiaRoadAntiques.com