October 12, 2018
0

found this helpful
(Costa Rican leather mahogany rocker) I believe this isthe same one you have. There are quit a few different online stores and Ebay that have this particular one and or similar . On this particular site tbis chair is selling for 250$ other sites more offers less . Hope this helps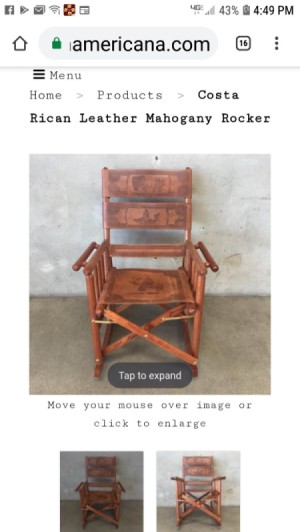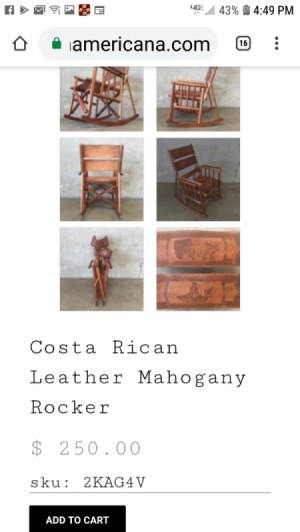 October 12, 2018
0

found this helpful
Neat-o piece! I have also never seen one like it in person!!!
There are similars on eBay that have sold from less than 90 dollars to up to $300--see this link:
www.ebay.com/.../i.html?_ipg=100&_from=R40&_sacat...
You will need to match the one that is the closest to yours to get today's current market value. This piece is unusual--usually I tell people you have to find an EXACT match, but in your case, I think you will have to settle for as CLOSE as possible.
Market value is always (to me) determined by what someone will pay. I use eBay sold to tell me this. Sometimes there are other auctions sites that share sold prices...and I find those through Google.
This is a neat piece!! Are you going to try to sell it?
If if you sell it on eBay, don't forget VALUE and PROFIT are totally different. Your value is your asking price. Your profit is what you get after all the fees come out. Be sure to weigh it and get accurate shipping info so the buyer pays the correct amount and you are not saddled with overages.
January 3, 2019
0

found this helpful
It appears that the leather is dry rotted and torn. Im speaking from experience because one was brought in to my leather shop a few years ago in similar condition.
Labor and materials to fix it up was $275.