VeronicaHB
Bronze Post Medal for All Time! 107 Posts
June 28, 2019
0

found this helpful
If I were you, I'd do some research on the desk before refurbishing it. Napoleon furniture, including desks, can be quite expensive.
You wouldn't want to do anything to reduce the value of your desk.
On the underside of the handles there are initials. Any idea what that could mean? Picture provided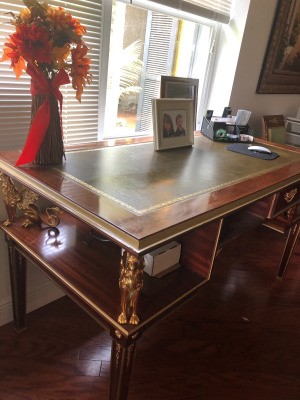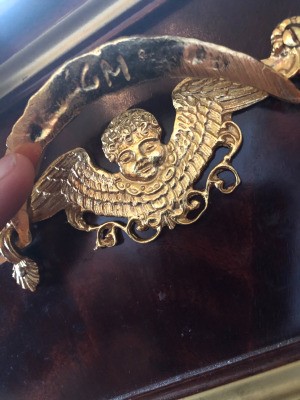 The only thing Ive been able to find is an obscure picture regarding auction of the item. Ill insert picture

June 30, 2019
0

found this helpful
Thanks for more info!!
So from everything you have said and what I know, my suggestions are as follows:
1. From what I can see, if you are in the right market--like at a good real auction house--you could probably get several thousand dollars for the set (provided that it is in as good a condition as your first photos and you find a good auction house).
It is unique and appeals to the subset of the population like your uncle, who love this neoclassical style. It is not a big market but collectors who love this stuff are willing to pay for it.
See if you have an auction house in your town who has a national appeal and draw and who would sell it on commission. Then take the money and buy something YOU love.
From what I know of Florida folks from my family and friends who live there (they are not so much into any kind of brown furniture, but love light color beachy furniture). But at a good auction house, they often have national appeal and buyers so that would be the best fit. This is why I would NOT recommend you trying to sell it on your own. That would be next to impossible and you would not be happy with what people offered you.
2. If you want to keep the piece and redo it...have at it. To me the item gets value in being loved and if you can make something you love, then do so. People did not (at least most people) buy things with the hope that they were going to sell it and get rich. They bought it to use and enjoy and love. If you can make it something YOU will love, do so.
You will make up any lost money in loving the piece. That is my take on it.
Post back what you decide!

June 28, 2019
0

found this helpful
Hi. I have never seen anything like this! Thanks for sharing.
Do you know the history of the piece?
I am not familiar with a brand called Napoleon Imperial. Is that what it is branded? The logo pictured does not look familiar to me either.
I know there is Napoleon STYLE furniture. I know there is furniture company called Imperial from the US in the early 1900s. Is that the brand? There is also Imperial STYLE furniture which is a different animal all together so to speak.
To me, there are just WAY TOO MANY variables in your piece to give you any good information without asking a bunch of questions and seeing much better photos. I would hate to get your hopes up that you have something super valuable only to find out it was made a few years ago and is totally valueless.
That is the thing with furniture...there are real pieces and there are knock offs an sometimes even a true expert can be stumped without all the facts in hand.
Yes, there is some Napoleon STYLE furniture that is quite valuable. Then there are knock offs of this style that have no value.
My best advice to you is to write down everything you know of the piece, take really good photos to a local antique/vintage dealer and have someone authenticate what you have.
If you can take the chair even, that may help.
They can tell you what you have, the value of the piece and then you can decide next steps. No matter what the value--if you love it and want to keep it, you can refinish it any way you want to make you happy. If you are trying to sell it, I never recommend making any refinishes to it...let the new owner do what they wish. That is just me though!
Please post back what you learn!! I am very curious what you have.
PS...Are you in Europe or the US? Just curious as the value (no matter where you are) will be vastly different if you are in the US or another country.
Thanks for sharing!! Can't wait to learn more!!!

June 28, 2019
0

found this helpful
I am on Florida. The piece was from my Uncle. He was a Napoleon enthusiast and money wasnt a huge object for him so it made me curious. There are no logos of any sort except the N with the wreath around it
I am in Naples, Florida
This was my Uncles desk. He was a Napoleon collector. He was quite wealthy so money was no concern. Thats why I suspect this is an original. I simply have no way of knowing what to do if I decide to sell or refurbish. Its an ugly light green material on the chairs but that was a common color and fabric for Napoleon Imperial era furniture.
It has much the same leather matting and emblems as the picture Ive included