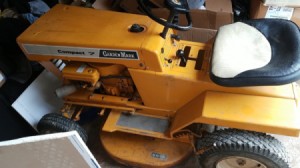 I came across a 1968 Montgomery Ward Garden Mark compact 7 tractor. Everything is original down to the spark plug with factory paint still on it. It runs and mows great. I just can't find any information on it's rarity or what it's worth.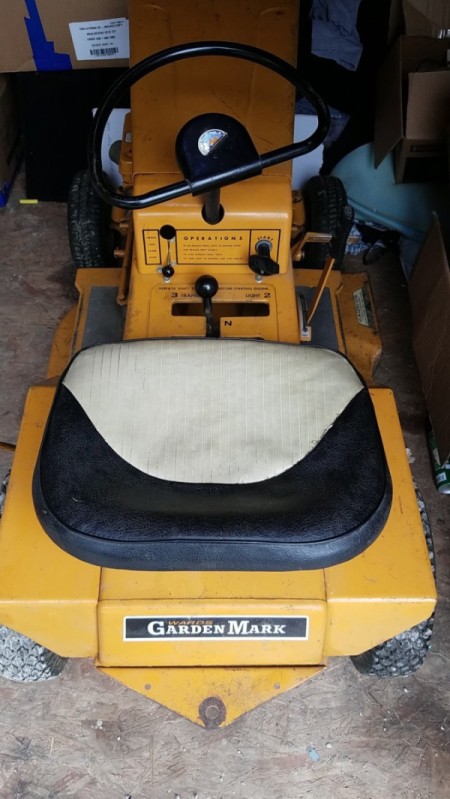 Answers

Judy
Gold Post Medal for All Time! 677 Posts
October 1, 2018
0

found this helpful
Best Answer
From what I have seen on eBay I would say about $200.

October 6, 2018
0

found this helpful
Best Answer
Nice looking mower.
You have probably already researched for information as I see you have the year made but there is not a lot to be found on the value as no two mowers will be the same.
Some of the tractor forums will answer questions but most will not discuss value but will occasionally say they heard of one being sold for such and such amount.
If you can find a forum to join where it is mostly collectors someone may be able to help you. You can check out some of these sites.
www.google.com/search?client=firefox-b-1-ab&ei=ZCe5W4rWA8...
Your best bet would be to try and get someone interested that reads/posts on one of the forums as someone there might make you an offer if you state that you wish to sell it.
Maybe someone else can offer more but I cannot see a way to place a value on your mower.
Here is a link to vintage mowers recently sold on eBay so you can see how the prices go all over according to the brand, condition, year, size, area located. You would rarely find a Montgomery Ward mower for sale anywhere so the value would have to be entirely yours unless you have a used mower shop near you that has a knowledgeable person and doesn't mind talking with you.

Pghgirl40
Bronze Feedback Medal for All Time! 196 Feedbacks
October 10, 2018
0

found this helpful
Best Answer
I like these 2 sites to learn more about the cool old mowers like yours:
www.mytractorforum.com/.../204394-first-time-montgomery-ward...
www.tractorbynet.com/.../329584-montgomery-ward-7-hp-garden...
Perhaps this site also may give you some info:
gardentractortalk.com/.../the-history-of-montgomery-wards-and...

I also talk to any flea market dealer I see who may have a piece--most are kind and like to talk. They will also be good at giving you values if they have SOLD pieces as SOLD pieces give you today's market value.
There are none on Ebay at the moment...but these are super hard to sell on Ebay because they need to be local pick up and that is a pain.
Sometimes you can find ASKING prices on this site...I never trust asking prices to value something...but mowers are tough and sometimes that is all that is out there as people do like to hold on to them:
Let me know what else you learn!! Most of the folks, like me, on this site are learning about things...experts in some, learning in others. I am a learner on the mowers...still a newbie!!
Answer

this Question

A friend has a 1962 to 1966 Wizard riding mower with a 5 horse, maybe Stratton, motor. It runs. How much can he sell it for? Thank you.
Answers

poehere
Bronze Post Medal for All Time! 105 Posts
September 21, 2017
0

found this helpful
The only information I found on this mower and how much it sold for was from an auction house. They sold the mower for 176 dollars.
Keep in mind this doesn't mean your mower can sell for this price. There is a possibility you can ask more.
When selling the mower you need to take into consideration the condition of the mower, does it run, and can it be restored. Many people buy these old mowers to restore them either use them, collect them or sell them again.
Answer

this Question