November 6, 2019
0

found this helpful
Best Answer
Lovely piece. I very much doubt it is teak. To me the colors are not right for teak. It may be oak.
I found several examples of pieces similar yours by searching Asian Inspired coffee table on line, a second search also worked using Ming Inspired coffee table, the one that found one that is almost identical to yours was this search (James Mont Inspired Coffee Table)
dejavudecors.com/.../coffee-table-james-mont-inspired
The last one looks very much like yours but with a wood panel top. If you don't know the history of yours, there is always the possibility that the glass panels were an add on by the previous owner.
I find this quite often in furniture, when you can't find an exact match, if you dig deep enough, you often find the piece is a "franken" piece meaning the owner customized it to his/her taste.
I could not be positive that this happened to yours as there are those with glass tops that are similar to yours, although when you look at the samples using the different searches, you will see most glass is different than yours.
The other thing is yours could have been clear glass, which broke and this is replacement glass.
For age, there have been several resurgences of Asian furniture being popular in the US. I am pegging yours (just based on gut instinct about it) as being a late 1980s early 1990s piece.
If you are trying to sell, the best way to figure out a value for your market is to see if you can find something similar for sale in a local vintage shop. That will give you retail value.
If you are going to sell it on your own, you can expect to get 1/4 to 1/2 of "retail".
You will see that some of the national sites like Chairish have prices on these in the high $500 range. You can never tell if they sell at that price because they don't offer a sold section like eBay does. Their mark ups are huge so I truly never go by those values in trying to set my own. I always use local examples.
Thanks for sharing the piece!! It is really pretty!
November 8, 2019
0

found this helpful
You are very welcome and Thank you very much Pghfirl40 for the time taken to inform me. I really I appreciate it!! It definitely takes me a step closer to what I am looking for. I do have the glass that came with it, it is clear.
I apologized for not taking the pic with the original glass. I will post a pic with the other glass.
I have tried researching by the information stamped on the table but no luck. I do find the same solid wood with no glass as well. You might be right that is oak. I am guessing that it was made around the 1970's, but we shall see. I might have to take it to a professional since I have another piece that has no marking. I will update as soon as I know more.
November 8, 2019
0

found this helpful
You are most welcome! Can't who learn more. Post back with an update!
January 6, 2020
0

found this helpful
Still searching. I was told it looks like a Broyhill. Found similar ones online with limited description. Posting picture with original glass.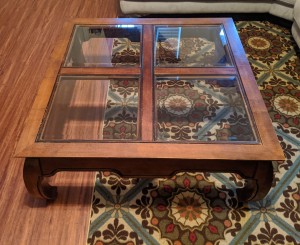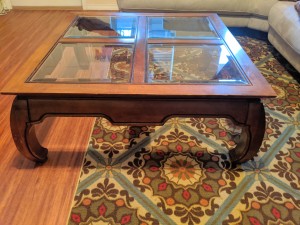 February 23, 2020
0

found this helpful
I came across one recently as well and am trying to figure out more about it. Mine looks almost identical, but doesn't have the black dots in the wood. Also, the glass panels have a sort of square border to them.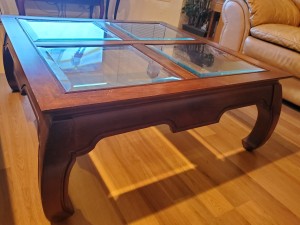 February 23, 2020
0

found this helpful
Also found one listed on chairish for $250 but was sold out.
Here's another pic of mine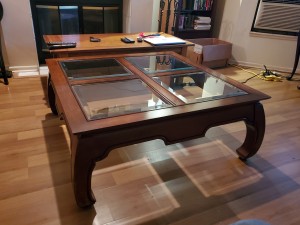 February 24, 2020
0

found this helpful
The squared off glass is beveled (at least that is how it looks in the photo). These are great pieces and some people still would love to have one in their homes. If you are trying to sell yours, I suggest talking to a local furniture re-seller/vintage shop and asking how much it would cost to buy one in your town. That would be retail so you would have a starting point. Just know people typically don't pay retail for things they buy from a person (like through Facebook or Craig's list), but it will give you a starting point! Thanks for sharing your table!