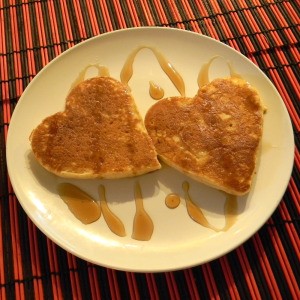 I've come to realize that more than a third of my friends are on vegan diets, not consuming any animal products. I like to throw big breakfast parties on the weekends, so now I use this vegan pancake recipe to feed everyone. They are so delicious, you can't tell there is no milk, eggs, etc!
Ingredients:
1 cup flour
2 Tbsp. sugar
2 Tbsp. baking powder
1/8 tsp. salt
1 cup soy milk
1 tsp. vanilla
2 Tbsp, vegetable oil
Directions:
Combine the flour, sugar, baking powder and salt in a bowl and mix. Stir in the soy milk, vanilla, and oil and beat together until batter is smooth.
Drop 1/4 cup of batter at a time onto a hot oiled griddle or greased pan over medium high heat. When bubbles appear on the surface of the pancake, flip and cook the other side for another couple minutes.
Note:For the pancakes in my photo, I put heart-shaped metal cookie cutters on my pan and poured the batter in until it set :)
By attosa from Los Angeles, CA
September 2, 2011
0

found this helpful
Okay, now you have me going! ;-) When I was about twelve I was trying to teach myself how to cook from the good old trusty family owned Betty Crocker Cookbook (both my parents worked full time, long hours and never had the time or patience to teach me) . Anyway, one thing I tried was Walnut Pancakes. Why walnuts is because my daddy loved them.
Anyway, the first Sunday morning I made them for him he raved so much about them that for years and years I made them often on Sunday mornings just for him. Well, years and years after that I finally confessed how much I hated walnuts and my own pancakes to him and he started laughing so hard I could feel my face turning bright red.
He told me that the only reason he ate those darn things all those years is because they were made with love when he would have preferred to use them as a discus because they were hard as a rock - LOL!
I haven't made a single pancake since then but you've given me the kick in the pants to try again with your recipe simply for the smiles and memories (nope, no walnuts will be added - LOL). I am giving you a thumbs up right now and if they don't turn out I know it's not because of your recipe but rather my own ineptness. I am no good at baked goods either.
September 5, 2011
0

found this helpful
HAHAHAHA! Oh Deeli! I adore your stories. That was fantastic. There is something about hearing things like that which actually make me want to try the strange foods. That's right! I want to try hard-as-a-rock walnut pancakes badly right now! I'm going to make some.
Just a tip, over mixing a pancake batter results in tough cakes! Try stirring until just mixed; they should come out soft and yummy. :) xx