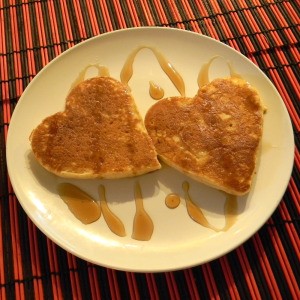 I've come to realize that more than a third of my friends are on vegan diets, not consuming any animal products. I like to throw big breakfast parties on the weekends, so now I use this vegan pancake recipe to feed everyone. They are so delicious, you can't tell there is no milk, eggs, etc!
Ingredients:
1 cup flour
2 Tbsp. sugar
2 Tbsp. baking powder
1/8 tsp. salt
1 cup soy milk
1 tsp. vanilla
2 Tbsp, vegetable oil
Directions:
Combine the flour, sugar, baking powder and salt in a bowl and mix. Stir in the soy milk, vanilla, and oil and beat together until batter is smooth.
Drop 1/4 cup of batter at a time onto a hot oiled griddle or greased pan over medium high heat. When bubbles appear on the surface of the pancake, flip and cook the other side for another couple minutes.
Note:For the pancakes in my photo, I put heart-shaped metal cookie cutters on my pan and poured the batter in until it set :)
By attosa from Los Angeles, CA