Vietnamese Beef Ragout (Lagu Bo)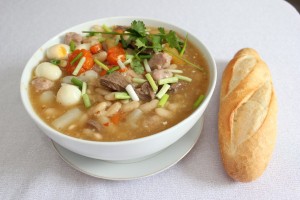 This is yet another delicious Vietnamese dish my mother-in-law makes. This is the Vietnamese version of Ragout. It is called sup lagu (lagu soup) in Vietnamese which sounds like ragout in French. Many Vietnamese dishes are influence by French cuisine because Vietnam was colonized by the French for nearly 100 years. This is also the reason Banh Mi (baguette) exists in Vietnam.
A word about the Vietnamese meat balls: Here we can buy this fresh already seasoned. In the states, you can find something similar in the frozen section at a Vietnamese market. In Vietnamese, it is called Cha Bo, or Bo Vien. You can also make your own by seasoning it with salt and a little bit of sugar, then mixed whole peppercorns. Roll into 1 inch balls.

Ingredients:
3 Tbsp oil
1 1/2 Tbsp salt
1 1/2 tsp sugar
1 1/4 tsp pepper
6 cups water
1 cup white beans
1 Tbsp flour
1/4 lb Vietnamese meatballs
1/2 lb beef shank
10 hardboiled quail eggs (optional)
1 potato
1 daikon radish
1 carrot
6 cloves of garlic
1 1/2 tsp sate chili sauce
green onions
cilantro
Steps:
Cut beef into 1 cubes. Slice carrots 1/4 inch thick. If you want to be fancy you can carve grooves into your carrot to make it look like flowers when cut. Cut daikon radish into 1 inch thick pieces. Cut potatoes into 1/2 inch thick pieces

In pan, heat 1 Tbsp oil then sauté 6 cloves of minced garlic.

Add the beef in and stir for 1 minute.

Add 1 1/2 Tbsp salt, 1 1/2 tsp. sugar, 1 1/2 tsp. sate chili sauce and 1 1/4 tsp pepper And stir.

Add 6 cups water in and boil for 2 minutes.

Pour the contents of the pan into the pressure cooker.

Add the carrots, daikon radish, and white beans.
Secure the pressure cooker lid then cook for 45 minutes.

While that's cooking, fry the potatoes.

After the soup has cooked for 45 minutes, take it off the heat and carefully open your pressure cooker. Add quail eggs, potatoes, meat balls then close the pressure cooker lid, put back on the heat and cook for 5 more minutes.

While that's cooking, mix 1 Tbsp flour with 1 cup water.

After the 5 minutes, open up the pressure cooker and slowly stir in the flour water, bring back up to a boil. Then pour into a bowl and enjoy with bread.
Published by ThriftyFun.
© 1997-2022 by Cumuli, Inc. All Rights Reserved.
https://www.thriftyfun.com/Vietnamese-Beef-Ragout-Lagu-Bo.html