September 16, 2008
0

found this helpful
She does appear to have some shepherd in her ...... and maybe a little husky as well. She looks to be a sweet girl. Why are you worried about her breed? She can be a great companion whether she's huge or tiny. She just needs you acceptance and love.

September 16, 2008
0

found this helpful
She looks sweet. If her personality is too, then don't be concerned about the breed. Breeds, although they tell you the general size, are not always accurate to size. We had a Brittney Spaniel and I was told he would be about 40 pounds when grown and he ended up 55. My son got a miniature dachshound which is under 12 lbs. (both parents were minis) but he has ended up full size of 22 lbs at only 8 months. Personality is much more important...in addition she still has some growing to do...enjoy her!
Harriet
By Debbie (Guest Post)
September 16, 2008
0

found this helpful
She looks like my Alaskan Malamute and not sure what else. Does she have one blue eye? My Malamute does.
By Shelter Worker (Guest Post)
September 16, 2008
0

found this helpful
She looks a little nervous in the pic but unless she gets her pic taken often that's not unusual.
Also, people always seem to want to hear their mixed breed pet is half one breed and half another breed when there may be several breeds in the mix.
From what I can see (and it's tough without seeing the dog standing in a relaxed pose) there some shep, husky and maybe a little bit of terrier. If you're near a dog racing area; there could be some of the sledding dogs breeds mixed in there as well. They're smaller husky/malamute types.
Even with "purebreeds"; MOST people buy from what are bad/backyard breeders and from shops and homes that front for puppy mills and kennels. That's where you get big variations in weight and size, among other features of the purebreeds. If you answer a newspaper ad or the breeder doesn't make you fill out a questionaire like a shelter would; they're NOT a good breeder. Since breeding kennels can be almost as bad as puppymills; stay away from them as well.
By Jenna (Guest Post)
September 18, 2008
0

found this helpful
Hey, thanks everyone!
I'm not worried about her breed, I'm curious. In fact, it is my husband that chose her at the petshop. He instantly fell in love with her. We weren't even supposed to adopt a dog! We went there to buy a wheel for our hamster! LOLL
She was 2 months at the time. I expected her to become bigger and I would have liked her to get bigger, but I love her so much now! She's our child now! My husband and me couldn't not love her, she is so sweet! Although she howls a lot! But we don't have any neighbor near and she can run in our enormous yard. Also, she loves to do some bicycle with my husband! She runs so fast next to him!
I'm sorry for the long response, I just love her so much! I couldn't live without her now that she's in my life!
Here's a picture a her and her sister (her real sister!) In fact, she has the chance to have stayed with her forever since my own sister adopted the other baby girl!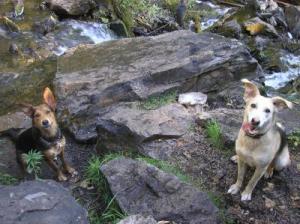 By Nancy in MO (Guest Post)
September 18, 2008
0

found this helpful
She looks just like our Shepherd-Husky mix. Even about the same size and weight. Lovely dogs -- but very active.

sandy
Bronze Request Medal for All Time! 87 Requests
September 20, 2008
0

found this helpful
Funny, I think her coloring reminds me of my terrier mixes.
By Jane (Guest Post)
November 27, 2008
0

found this helpful
This is my dog TJ. The rescue foundation we got him from said he was a rotti-shepherd mix. I've seen a few other dogs that look like him.
The rest of his litter was white and brown though. Just wondering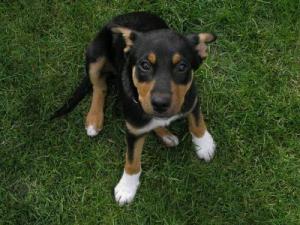 April 29, 2009
0

found this helpful
Shepherd mix for sure, what else? I don't know.