February 24, 2011
0

found this helpful
Here is the picture of her parents. Supposedly the dad is the shepherd looking one, and the white one is the mom. I'm mostly wondering what breed the mom could be.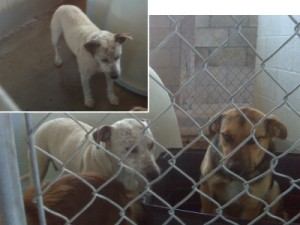 February 26, 2011
0

found this helpful
Well, here's my two cents. When I first looked at the pic of your dog i thought Pit as well (especially b/c of the thick build and b/c of the Brindle coloration). There are several breeds of dogs that can have the Brindle coloration including Staffordshire Terriers, Dutch Shepherds, Whippets, Great Danes, Bull Dogs, Bull Mastiffs, Corgis, Dachshunds, and I've even see a lab mix and a Australian Shepherd Mix that were brindle colored, much like your dog.
But when I look at the parents, I don't see Pitt-bull. We can definitely see the German shepherd or Rottweiler in the father and possibly Pit if his head and body were thicker (hard to tell from photo). The mother looks like some sort of terrier mix, but not pit-bull. Maybe whippet but she's not skinny enough. There could be some Australian Shepherd or Labrador in either of them. The white spot on the chest of the father tells me lab mix. To be honest it's a guessing game really unless you pay for the DNA testing (which is a silly waste of money if you ask me).
I have a mix dog that I took in and I saw her parents too, which helped a lot with deciding what she was. The photos are below (first the dog we're talking about is the red/black, second and third pic are the father looks like a german shepherd mix and the mother looks like a sherpei mix). Now if you look at my dog, her body says rottweiler and she has some extra skin around her neck that says sherpei - but w/out seeing her parents it would be a guessing game for sure!
If you saw the parents yourself I would do some research on dog breeds and make your own educated guess.
BTW, you have a stunningly beautiful dog!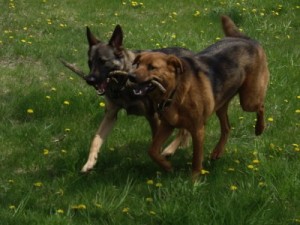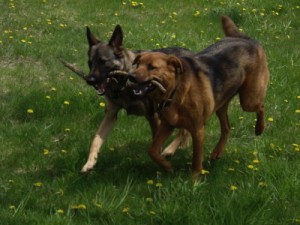 February 27, 2011
0

found this helpful
Thank you mfisher! It's nice to have a better idea of what could be there, haha, it really is a guessing game. I can see what you mean looking at your mixed pup. I think eventually I will have to try a dna test when I have the money for it, I'm just too curious!
Thank you for the compliment! I get them all the time when I walk her, she's a very unique looking dog :)
Thanks again for your insight!
February 27, 2011
0

found this helpful
Kinda looks like my dog, who we recently discovered is a 'Boggle'... a boston terrier beagle mix. They have pretty similar markings. I don't know about Beagle, but yours looks like he might have some Bostie in him.