October 15, 2009
0

found this helpful
Hi, this is my dog Sam. We have been told he is a staffy mixed with a collie and he looks just like your dog but sandy.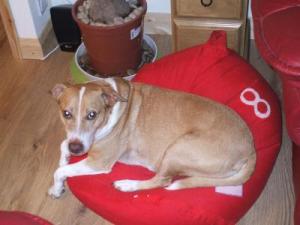 October 17, 2009
0

found this helpful
Steve's dog looks exactly like my neighbor's dog, Nonnie, who is an American pit bull; such a sweetie. Here is a picture of her.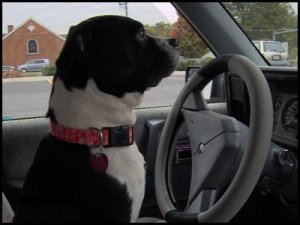 October 18, 2009
0

found this helpful
My understanding is that a pit bull terrier and a Staffordshire are, basically, one and the same, with one exception. The pit bull can not, as i understand it, be American kennel club registered, and the staff. Can. Some say there are slight differences in the shape, line, etc., Of the two dogs, but i do think that is just to prevent the awesome pit from "contaminating" the akc with such a "terrible" killer dog being in their ranks.
To be honest, we all know there are bad apples in all breeds, but they are usually taught that way, just as people are taught that bad acting works for them. Your dog is beautiful, and pit or not, teach her manners, good behavior, and who is in control. Enjoy a long life with her.
October 19, 2009
0

found this helpful
You have a wonderful, loyal dog! Staffordshire Terrier is good to use if 'pit-bull' freaks people out.