February 22, 2011
0

found this helpful
Hon, I'm afraid your dog is definitely "Staffordshire " which is a type of pit bull. I have had a "staffy" myself and she was absolutely so non-aggressive that she wasn't typical of her breed. I was one of the elite group of lucky owners. The problem with pits is they are bred for a purpose as all dogs have a certain job or purpose some herd some retrieve the pit is bred for fighting. Pure mean, til the death fighting. So no matter what it has this instinct for fighting. The difference isn't that they lock the jaws because their jaws are no different structurally than any other dog but their instinct is to not let go to hold on to the death and you'll need to take precautions with him.
Pits are generally non aggressive towards people they tend to be really loving dogs however they have a bad disposition with most other animals so going to the doggy park I wouldn't do. And having any other pets such as cats is asking for trouble not always but most of the time. As far as taking it from you they quite possibly could he is a type of pit so if your country has a ban, then it's a good chance he'll take it especially I would think because a vet is the one who deals with the destruction and wreckage this breed leaves when it attacks another animal. Vets deal with the grieving owner as well. Not such a good thing. Maybe you ought to take up some classes on animal first aide.
Anyway, hope this helps and I must say you have one of the best looking staffs. He's beautiful. Love the color! Mine was silver. That was long ago. Now I raise mini Dachshunds. I've enclosed picture of some of the babies I've raised recently.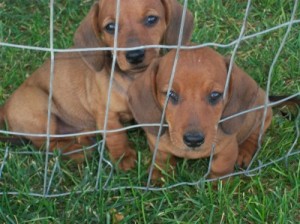 February 22, 2011
0

found this helpful
When I first saw the photo, based on the eye shape my immediate reaction was pit. Regardless, this is a 5 month old puppy, in need of innoculations, and who knows what in future vetting. Do you intend to hide him all his life, or not have him vetted? If they are illegal, find out if they are allowed to be kept under certain circumstances, such as being neutered, attends and has proof of passing, dog obedience classes to whatever level might be required.
Are they allowed in some living environments and not others, such as ok for a farm but not in a population dense apartment building? Knowing that the dogs are illegal in the UK, shame on the person who allowed this breeding to take place!
February 22, 2011
0

found this helpful
Pits and Staffies are very similar looking breeds although not the same. They do have doggie DNA kits to do at home.You swab the dog and send it away. I believe that will be the only way to know for sure what breed you in fact do have on hand. As for pits being breed only for fight, that is false. they may have started as such but Pitbulls can be very loving loyal and gentle dogs.
much of their temperament lies in how they are raised. the issue on them being illegal where you live could in fact pose issue if he is indeed a pit. maybe if he turns out to be a Pitbull you can contact a Pitbull rescue organization to come & get him and find him a home where he is legal.