February 2, 2011
0

found this helpful
I'm grinning, but I have a love/hate relationship with all of the "what breed is my dog" posts on this site. On one hand, as a lifetime pet person, I love, love, love seeing all the pictures. On the other hand, it's so impossible to accurately assign a Breed to a single photo. And if I had a third hand, it would be waving off people who actually thought Breed mattered: Breed only matters if you are planning on breeding (and if anyone is, papers should have been secured) and is merely helpful, not mandatory, as you try to interpret individual tendencies and preferences.
A puppy is a dog is a canine family member, and with your love, patience and guidance will become a best friend, forever!
Just an aside so that you can stop all the debates between friends, Pits, by rough definition, are a mix between any kind of terrier and any kind of bulldog and there are a multitude of Breeds that fall under the category of "Pit Bulls". In other words, all Pit Bulls do not fall into the same mold! Just have a lifelong, wonderful friendship with that dog and don't worry about labels. Hugs and scratches for your cutie pie boy dog!
February 2, 2011
0

found this helpful
I agree 100% with KansasCindy.
We once bought a female "golden Lab", supposedly a thoroughbred Lab. Mandy turned out to look so much like some kind of hound, that people made fun of us and our "pure bred Lab". Our male lab had perfect confirmation of the Labrador breed.
Mandy was Lab through and through too though, and was the sweetest most lovable dog in the world.
Playful and smart and great with kids, adults and all other dogs. Someone told me that all Labs have hound ancestors, and ever so often, one will be a throw-back to those hound ancestors. Maybe it's true, I don't know. Mandy was Mandy, and no other dog could have been loved more if they'd been part human. She lived to be 11 years old, and never was sick or hurt. She just went to sleep one night and died in her sleep. We'll never know, but have often wondered if she had a heart problem that just never was detected.
Give your dog all the love you have in you, and you'll get it back one-hundred-fold. Animals are like that.
Thank you for sharing his photo with us.
MisMachado
February 2, 2011
0

found this helpful
We have a Pit that looks like yours and is considered a 'mix' by the vet.
It was pointed out that Pits have wide, squatty faces and bodies (your beautiful pooch is slender, long and lean).
A friend said, "Probably the 10% that isn't Pit is what gives him his sweet, loving disposition." How's that for consolation?
February 2, 2011
1

found this helpful
Your dog looks more like an American Pitbull Terrier and not what we commonly think of as a Pitbull (wide, boxy, blocky,squatty snubby faces).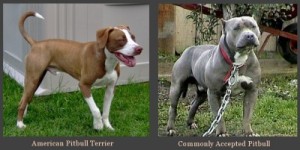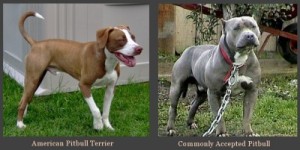 February 2, 2011
0

found this helpful
Your pup has a beautiful glossy coat. Good job! What do you feed him? The definitive answer about breed is usually solved with AKC papers. I think the photos above show a good difference between various pits. Your boy looks very lithe - not like the muscle stacking of the Pitt next to the terrier. That aside, he looks like he has a kind eye and is bonded to your family.
The puppy I have never been able to get out of my mind was a beautiful "generic" lab mix at our local SPCA. I would have adopted that pup in a heart beat, but my ex2B wanted a purebred. I hope that beautiful baby was taken into a fine forever home. My current dog is a rescue GSD. She's my medical companion. Very gifted.
February 3, 2011
0

found this helpful
Thank you for helping me. It's not that I was breeding him or anything. He is fixed. I just wanted to know.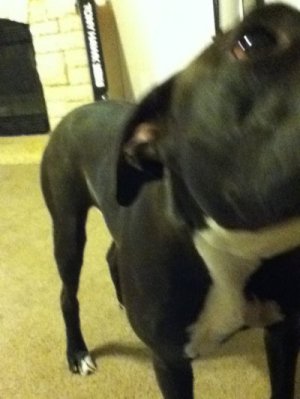 March 15, 2014
0

found this helpful
Our supposed Border Collie/Terrier Mix looks identical to your dog, I'm sending a picture of our Buddy. He is 8 1/2 months old and is very, very strong. He's very smart, sometimes too smart, but he is so hard to handle on walks because he is so strong.
We adopted him at 8 weeks old and he was only 8 lbs. February, he was 57 lbs when we got him neutered (by the way, it didn't slow him down in the least).