October 1, 2012
0

found this helpful
The puppy looks like full-blown shepard. If it is, the ears will start to stand up when it gets older.
October 1, 2012
0

found this helpful
Breed? Gorgeous. Looks GSD. Please do healthy for him. No corn wheat or soy, no vaccines, supplements to keep him healthy. Learn about Diatomaceous earth for worms and other health, Borax in carpets for fleas, Colloidal silver for many things, hip health, Nzymes.com (terrific product) No grocery store pet food, No Chinese treats.
NO CHINESE ANYTHING (KILLS). Neuter when old enough (not too early) -----and ----------Love him for the best friend he will always be.
October 1, 2012
0

found this helpful
The only person who can answer this is a registered German Shepherd breeder and because you are asking this question that is not where he came from. He certainly could have GS in the breed mix but his ears are too large for a Shepherd and irrespective what his "mix" they will never stand erect. Just love this beautiful boy for who he is and a Pedigree is worthless unless you Show/Trial animals. A long and happy life to both of you. This is my boy Casper Cody Rex pet name Tyson.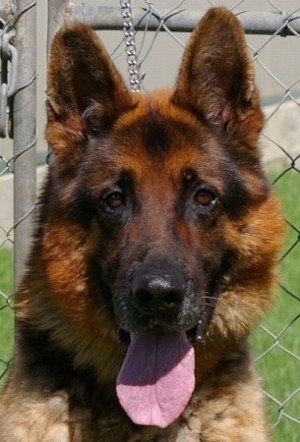 October 1, 2012
0

found this helpful
He does look GS but there is only one way to really be sure-DNA testing through your vet (@approximately $300, an ouchie if you're on a budget, and even with testing you will never be able to have him AKC registered as you don't have info and papers on the parents).
However, the vet should also be able to simply 'eyeball' your gorgeous little guy and give you a 99.9% accurate opinion as to breed.
If you don't have a vet already, choose one based on the type of practice-there are so many vets in the US nowadays who are specialising canine or feline that you have to be careful to chose a vet with experience in your fur-baby's species.
October 16, 2012
0

found this helpful
That advice about no soy, corn or wheat is great!Some people do the raw diet. I think your shepherd will love it.
The dog is all shepherd whether his DNA says so or not: We have a chow shepherd that is "all shepherd that way too."
It took a long time to learn why my little mountain feist was looking at me with such misery for so long. It was the corn and soy and wheat. These dogs will not do well on any of those things.

At feed stores, or anywher you can order dog food online get the ones without corn soy or wheat or better yet study the raw food diets on the many yahoo groups out there.
I love my dogs and yours reminds me of our Dutchess! Thank you for loving this dog!
All German shepherd in all the ways that count, and I didn't know the price of a DNA test I am glad I found out because when people ask me what breed my fosters are I can give them a ball park figure of how much it costs!
Here is a pic of our lovely Dutchess!
Blessings, Robyn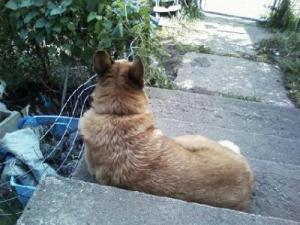 January 30, 2014
0

found this helpful
I know this is probably coming a little late as the other posts were from 2012 but I was just going through some of the pics and came across yours and just wnated to comment. Your pup/dog is a "silver sable german shepherd". I have a pure white shep and a blond german shep and they just had a litter of 9.
Four black and tan, three white and two silver sable. They are just over three months now and look identical to your pup. Hope this helps a little if you haven't already found out the exact name. Cheers
Cheryl from Ontario, Canada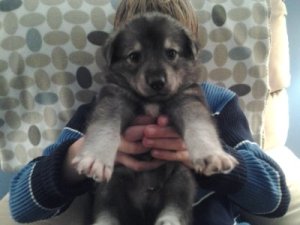 November 14, 2014
0

found this helpful
He looks like a Chow Chow/German Shepard mix. But he is SO cute.
April 26, 2015
0

found this helpful
He looks just like my dog! He's a German shepherd x Pyrenean mountain dog.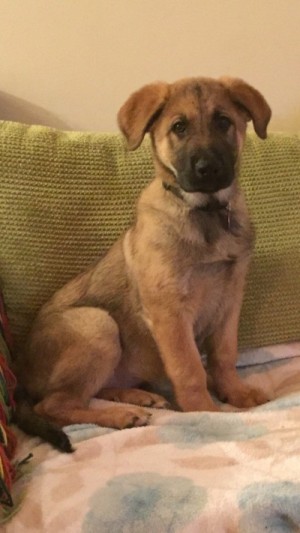 May 21, 2015
0

found this helpful
What did your dog end up being/looking like? My cousins puppy looks super similar to yours!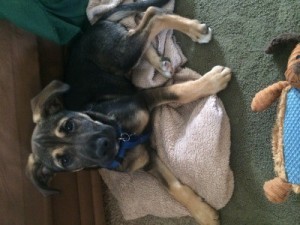 June 3, 2015
0

found this helpful
He looks exactly like my dog! What does yours look like now? Here's mine. He's German Shepard and I think pitbull boxer.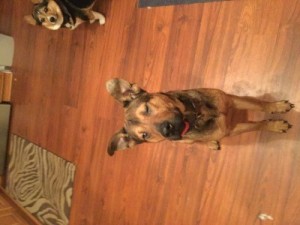 July 15, 2015
0

found this helpful
Looks just like mine who we adopted at 8 weeks and is now she is more like 12+ weeks....They said she was a German Shepard, Rottweiler and Pitbull mix. Never saw the parents though!
Such cute dogs!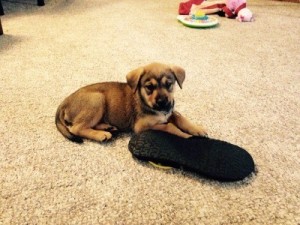 November 8, 2017
0

found this helpful
I mean definitely German Shepherd but also definitely mixed with shar pei (Id say only like 25% though)
January 12, 2018
0

found this helpful
Lab mix looking at the eyes and ears
March 21, 2018
0

found this helpful
No his ears are not German Shepard theyre always pointy they look kinda like lab (mostly in babies) ears