White Marks on Dark Laminate Countertop?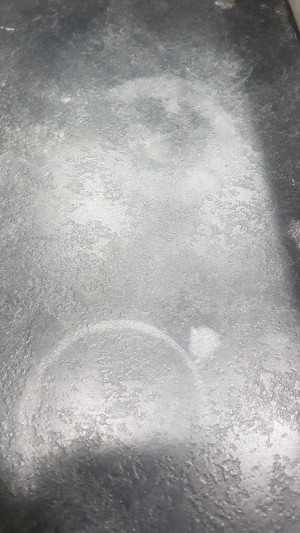 I am not sure what I put down that causes it. I am not sure how to fix it. I purchased Arborite because it used to be so so durable, but now I am not so sure. How do I restore it back to new?
Does anyone have ideas for the cause and what to do as a repair?
Add your voice! Click below to answer. ThriftyFun is powered by your wisdom!
November 16, 2020
0

found this helpful
Here's the PDF for Arborite and guidance on cleaning and maintaining the surface of your countertop.
static.wilsonart.com/.../Arborite-Care-and-Maintenance.pdf
Here are some things that you may try to remove the stains on your counter top:
*Start out w/ 1/2 vinegar and 1/2 dishwashing detergent and if that doesn't work then go to a method a bit stronger.
*To remove stains from coffee or tea, mix a paste of baking soda and a mild household cleaner and apply to the soiled area. Let the paste sit for five minutes, then rinse with a soft cloth. Baking soda is a bit abrasive and can leave fine scratches, so take it easy. Dont use steel wool, ever. Once a laminate countertop is scratched it becomes more porous and will stain easier. For very tough stains, leave the baking soda paste on the stain overnight and wipe off in the morning.
*As a last resort, use nail polish remover for stains like ink. Put a little on a cotton ball or soft cloth and rub it on the stain. Be sure the cloth is white, because nail polish remover could remove the dye from the fabric and stain the laminate.
(This product may also be worth a try. A product called 'Countertop Magic' may help restore the finish of your counter top. It has good reviews from people that have used it for 20 years.)
November 16, 2020
0

found this helpful
You should be careful about what you use so as not to scratch your countertop and how long to leave a cleaner on the spot can be crucial so test in an unseen spot if possible.
You say your top is 'dark' so that makes it even more crucial to be sure what you're trying is for Arborite.
Arborite is not the same as Formica.
Some sites recommend a product called; 'Countertop Magic' and this may be good for everyday cleaning but I'm not sure about removing stains.
I would suggest you contact the Arborite company and ask their advice.
www.arborite.com/contact
You can also contact Lowe's or Home Depot and ask about this as both companies sell/install Arborite.
November 17, 2020
0

found this helpful
Thank you I will give those a try! Honestly I didn't know there was a difference between arbright and formica, figured it was a differenceof a brand name, or of location of what people call things. Since I got it from Lowe's it must be the arbright. Cheeper product. Guess I am tired of products that are so substandard from what they were 30 to 40, 50 years ago.
November 18, 2020
0

found this helpful
This almost looks like you have set a bucket or a pan on the top of the counter that had some abrasive cleaner on the bottom of it. I am saying this because of the ring that I am seeing and the spot next to this. I am not sure if you have used bleach in a bucket or dishpan to clean your floors or something in the home. If this is the case sitting it on the countertop and not wiping it up will cause a ring like this.
The solution that everyone recommends to use to clean the top of this counter is a mixture of 50/50 of vinegar and water. To me, I am not sure this one will work at all because it looks like the color has been removed from the top of your counter. it is safe to use some baking soda mixed with this solution to make a paste to apply to this stain to see if you can remove it. I have a similar countertop and got a few drops of bleach on it one time and it left the white stain you are seeing here. I have never been able to remove that few dots on my countertop because I did not wipe it up immediately and it removed the color of the countertop.
Add your voice! Click below to answer. ThriftyFun is powered by your wisdom!
Published by ThriftyFun.
© 1997-2020 by Cumuli, Inc. All Rights Reserved.
https://www.thriftyfun.com/White-Marks-on-Dark-Laminate-Countertop.html