I love those cheap "just add water" pancakes mixes just as much as the next girl, probably MORE! That said, these pancakes actually don't take that much more time. They truthfully taste delicious, and they are healthy. Pancakes without the guilt, who knew?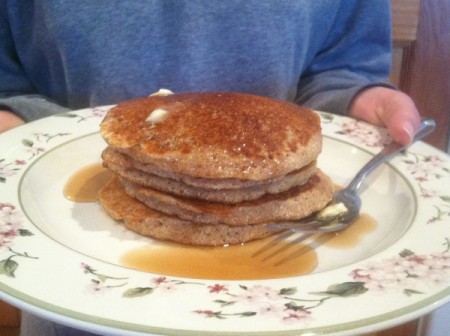 Did I mention they keep you full about a million times longer than the processed box mix kind? Try them, I think you'll be pleasantly surprised. My little girl who hates pancakes even loved these. Miracles do happen. :)
Total Time: About 5 minutes prep
Yield: About 8-10, 4 inch pancakes.
Source: Modified from a basic pancake recipe in my Better Homes and Gardens cookbook.
Ingredients:
1 cup whole wheat flour
1 Tbsp granulated white sugar
2 tsp baking powder
1/4 tsp salt
1 beaten egg
1 cup milk
1 tsp vanilla extract
2 Tbsp cooking oil (+ more for cooking in the pan)
Steps:
In a large bowl, stir together your flour, sugar, baking powder and salt.
In another large bowl, whisk together your egg, milk, 2 Tbsp. cooking oil and vanilla.
Add your liquid mixture to your "dry" bowl. Stir just until combined.
Cook in the usual manner on a griddle or pan, well greased with additional oil. Make sure you have plenty of bubbles atop your pancake before flipping. :)
Top with butter or margarine, syrup, and enjoy!
October 4, 2005
0

found this helpful
These delicious pancakes are packed with fiber, making them a great meal to start your day.
Ingredients:
1 cup buttermilk (or skim milk with 1 Tbsp. lemon juice)
2/3 cup slow-cooking rolled oats
1/2 cup unprocessed wheat bran
2 egg whites or 1 egg
1/4 cup whole-wheat flour, preferably stoneground
1 teaspoon fructose
1/8 teaspoon salt
3/4 teaspoon baking soda
vegetable oil or vegetable oil cooking spray
Directions:
Combine milk, oats, and bran in a large bowl. Let stand until rolled oats soften. Add egg and blend. Mix in flour, fructose, salt, and baking soda.
Grease a griddle or frying pan with a little vegetable oil or vegetable oil spray and set over medium-high heat. Pour about 1/4 cup batter into the pan and cook for about 3 minutes or until bubbles form on top and the edges begin to look dry.
Turn the pancake with a spatula and cook for 1 to 2 minutes, or until golden brown and cooked through. Repeat with the remaining batter. Serve hot with unsweetened jam or syrup.
Yield: 6 servings
Nutritional Information Per Serving (1 pancake): Glycemic Index: 52, Glycemic Load: 7, Calories: 82, Protein: 4 g, Carbs: 14 g, Dietary Fiber: 2 g, Fat: 1 g, Saturated Fat: Less than 1 g, Cholesterol: 33 mg, Sodium: 202 mg
Diabetic Exchanges: 1 Starch
By Terri
My husband works, and although I am retired, my schedule is hectic. I like to make sure he has a good breakfast before heading out as he is a diabetic. He loves pancakes, and although I know they tend to raise the blood sugar of some diabetics, these do not raise his. So I mix up jars of this awesome pancake mix and keep it on the pantry shelf. It fills a quart jar and each jar makes approximately 36 four inch pancakes. After making them, I freeze them and store them in a 5 quart ice cream bucket in the freezer. All he has to do is nuke three of them, along with turkey bacon - a little sugar free syrup and he is good to go!
Ingredients:
Into a clean quart jar pack:
3 cups whole wheat flour
3/4 cup non-fat dry milk
3 Tbsp. brown sugar substitute (I use wheylow gold), packed
3 Tbsp. baking powder
1 1/2 tsp. low-sodium salt
When ready to make, add the wet ingredients:
3 eggs or equivalent egg substitute
1/3 cup canola oil
2 tsp. vanilla
2 1/2 cups water
Directions:
Dump the jar into a big bowl. Add the wet ingredients, mix well. Pour a scant 1/4 cup on griddle, cook a few minutes until brown, flip, cook on other side until brown. This makes approximately 36 four inch pancakes. One serving is 3 pancakes.
Servings:
12
Time:
2 Minutes Preparation Time
10 Minutes Cooking Time
Source: I found a recipe in an older Betty Crocker cookbook and altered it to fit my needs.
By kerly87