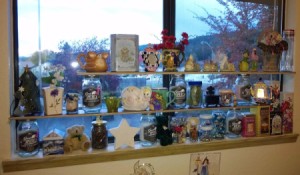 I have a west facing window I don't have to worry about blocking till July! So, in order to have some privacy, but still let the light in, I did this with some lemonade jars and flooring planks.
I had the jars and often use things like this for shelving support. This time it was "almost" perfect. I would have loved to have had longer planks, but I staggered them so each butted up against the sill, giving them a bit more stability.
Putting what you love on the shelves gives it a unique touch as it did mine.
NOTE: If you have little ones at home, you may want to leave this or a smaller version to a window you know they can't get to.