Here is another picture of my Dark Desire roses. The plants are small and in 1 gal. pots. I have about a dozen more this size.
Even this small, they are making large blooms. In the pot to your right is a pair of white handled scissors. I used it to prop up the heavy bloom. If you can find it, you can use it to judge the bloom size.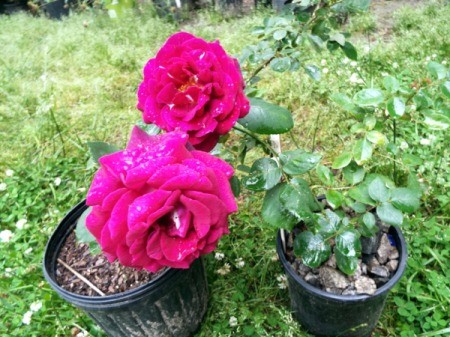 Along with this dozen+ plants, I have 2 large plants in 5 gal. buckets. So, I am going to have lots and lots of blooms.
I went out this evening after a good rain. There was a blanket if rose petals on the ground. That put me to thinking.
A little later on in the season, I'm going to be able to go out and pickup at least a peck bucket of petals from this highly perfumed rose.
Here's my question. I want to do something I've never done before. I want to make rose water. Yeah, I could google this, but if Y'all have any tips or suggestions or maybe some personal experience at making rose water, I would love to hear them. What say ye?
You know, I've read this stuff is wonderful to keep in a spray bottle in the refrigerator to use as a nice pick me up on hot summer days when you feel all wilted.
You're darn tootin' I would! Not if I were going out anywhere, mind you. But around the house? Absolutely.
Saving rose petals. Now how frugal is that?