My neighbor recently contacted me to ask for some weight loss tips. She had noticed me gardening last week and was struck by how much weight I had lost. I actually don't weigh any different than last year but it takes awhile for people's mental image to update. I lost about 75 pounds in about 4 years, by using Weight Watchers, fitness classes and focusing on whole foods and home cooking. It didn't happen overnight but as my mentor would say, "You didn't gain the weight overnight either".
Here are some of the most effective tips I found. Of course, you should always consult with your own doctor regarding changes in your diet and exercise.

Track What You Eat:
This is very important, whether you use a written food journal, an online app or a program like Weight Watchers. This will help you become aware of exactly what you are eating. You will naturally be reluctant to have to write down excesses, but do it anyway. I fought against this during my whole journey, which probably slowed down my progress. Make it your first new habit!
Many people will simplify their diet to make tracking easier at first; having the same meal for breakfast or a rotating selection for lunch. Use a kitchen scale or measuring to check portion sizes; especially for things like cereal or cheese. Some people package foods in single servings (or purchase it packaged) to assist with this. I would get single serving hummus or string cheese for this reason, so I didn't overindulge.

One nice thing about using an established program like Weight Watchers is that they have done all the work for you. They can easily calculate how much you should be eating and they have a system for adding in more points for exercising and giving bonus points for flexibility. Allowing yourself occasional treats is an important part of a healthy lifestyle, so you don't feel deprived.

Find Your Cheering Section:
It is very important to have supportive people when you are working toward a healthy weight. I had a great support system with my husband, my family and friends, but also by attending my weekly Weight Watchers meetings. It was wonderful to have a group of people to both celebrate my milestones and advise me when things weren't going so well. It kept me accountable and on track. My friends at the gym kept me accountable as well, asking when I missed classes.
The single greatest inspiration was my friend Stephanie, who has been encouraging, exercising and losing weight with me since the very beginning, She also helped keep me clothed as she continually gave me her "too big" clothes, just as I needed the next smaller size. Look around and see if you can find a partner too. You can support each other.

Focus on Fresh Whole Foods:
Don't try to go for the quick fixes; the pills, the surgeries, the prepackaged meal plans. These all take a level of determination too, or an acceptance of the side effects. We have all known people who have gained all their weight back and more with this program. Instead, you want to find a sustainable way of living now, and for the future.
The beginning of my weight gain was probably my teenage job at McDonald's, followed up by the excesses of college and the frantic early motherhood years. I enjoyed cooking but I also loved to eat out, and didn't often make healthy choices in either case. I would use a lot of box meals and add in extra onion and garlic to make it "healthy". The food tasted good but was definitely not low calorie or particularly nutritious.
As I paid more attention to what I was eating, I started to read labels and cook more things from scratch. I had to relearn how to cook low fat recipes, and then vegetarian for my son's new diet. I signed up for a delivery service for organic produce to encourage us to expand. I would receive unusual things like celeriac, sunchokes or bok choy. I started growing more vegetables myself, especially tomatoes, and grew interested in canning, freezing and other forms of preserving. I also shopped at the Farmer's Market in the summer months for whatever I can.
Most of all, I became mindful about what is in the food that I was putting into my body. I usually don't buy products with long lists of ingredients, or lots of chemical names. I avoid artificial sweeteners, high fructose corn syrup and most dyes (like Yellow Dye #5). I try to use vegetables and lean protein as the basis of my dinners, with small starchy whole grain sides, like brown rice or quinoa. I never drink soda and rarely drink juice. I try to drink water all day long, with coffee in the morning and tea before bed.
Now, this may not fit at all in your lifestyle today. You may not have the time or inclination to cook at home or to give up the foods that you love. But everyone can make an change for the better, whether it is to eat more vegetables or fruit, drink more water, switch to whole grains or avoid fast food. Pick one new habit at a time and stick with it. The changes become easier over time, especially when you start seeing results.
Get Active
Most overweight people don't like to exercise. I didn't. My knees hurt and I was out of breath and I felt awkward and ugly and FAT. But as you lose weight, your body should be able to do more and more. What is more, your weight loss will stall out without increased activity. This is another place where it helped me to have an encouraging partner.
My friend Stephanie and I joined a weekly bellydance class, which was fun and flirty, while gently toning our muscles. We would also go for walking coffee dates or take our dogs for walks around the neighborhood. I now attend fitness classes three times a week at my local gym and have even been in some 5k races, including the Warrior Dash in the picture (I'm in the middle with Stephanie and my friend Amanda). It is nice to be able to keep up with my sons at the park, help my husband with yardwork or household tasks, or to feel stronger and more flexible in every day circumstances.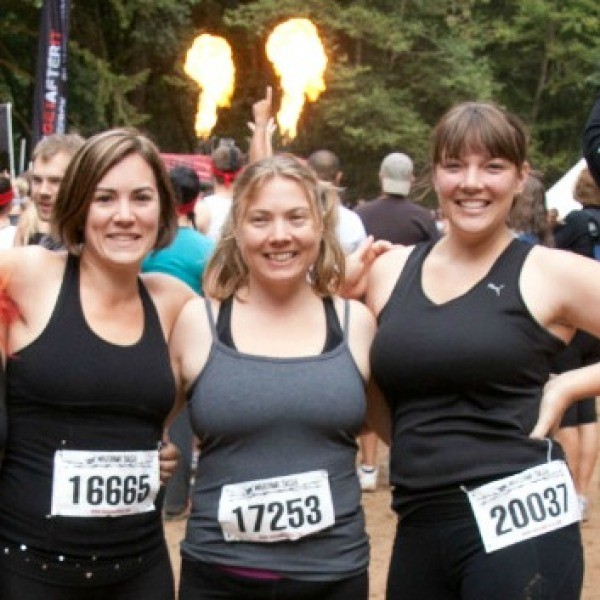 If you are unsure how to start, try signing up for guest passes to the local gyms and fitness clubs. Some will have free passes for a few days or may have drop in classes for a small fee. This will help you find a place or class where you feel comfortable. You can also look for fitness classes at local colleges or programs run through hospitals or your city or county parks. Hire a personal trainer to show you some exercises to try on your own, or to be that enthusiastic partner that you need. And, always talk to your doctor and get recommendations first.
Eat Regularly, Especially Breakfast
The habit that served me best was to eat breakfast every day. I used to always skip it, just a cup of coffee. This would leave me ravenous by lunchtime and I would often overeat, or feel entitled to splurge since I hadn't eaten anything. Eventually, I made sure I had a granola bar handy, if nothing else. Most often, I would have yogurt, cereal, or whole wheat toast with light Laughing Cow cheese. I would have fruit at breakfast too and also as a mid morning snack, if I wanted it.
I also scaled back my coffee habit. I used to get giant sized lattes with sugary flavors. First I switched to nonfat milk. Then I scaled them back to the middle size. I don't get syrup often anymore and when I do, it is sugar free. I often just get black coffee now.

For meals, I use the smaller sized forks and spoons and try to put my food on a small plate or bowl rather than a large dinner plate. It doesn't look like too little food. I also try to wait 15 minutes or so after a meal before I have a little something more. I rarely want it by then. A cup of hot tea before bed finishes the day, with a bit of honey if I have a sweet tooth.
When you do go out for lunch or dinner, try ordering a salad and appetizer or sharing your meal with another person. When we go for Thai or Italian food, I often ask for a to go box and split it before I start to eat it. Out of sight, out of mind. It makes a great lunch the next day. I also always get water instead of soda and try to sub out veggies or salad for starches like potato or rice. There are so many food allergies nowadays, restaurants are often very flexible about substitutions and no one has ever not given me extra veggies yet.
Be Patient:
As I said in the beginning, this won't happen overnight. You might start out strong and drop 10 or 15 pounds pretty quickly and then get stuck at this new lower weight for a long time. I had several times where I plateaued in my weight loss and was there for months before I started dropping again. Trust that the healthy changes that you are making will help you, even if they are not showing yet on the scale. Be sure to take a "Before" picture and retake new ones regularly to compare. Celebrate each little victory and don't let little setbacks become big ones.
Most of all, love your body now, despite the extra inches, sag and scars. Even if you get down to your ideal weight, there will still be things that you don't like. You may as well forgive yourself those imperfections right now. I guarantee there will be changes you really do like too. My life is so much different than before I seriously started to lose weight. My knees don't ache all the time, I don't have heartburn at night, my skin is clearer, my blood pressure is down. It is definitely worth every bit of the hard work and determination I have put into it.
I hope some of my tips will be useful to you. Feel free to leave me feedback or send me a private message (click on my name) and I'll contact you back.