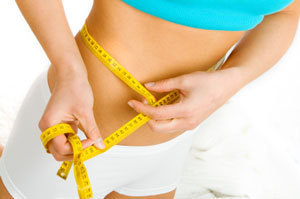 I've been slim for about 10 years (of course with a few ups and downs!) and have just realized that there are a lot of things I have been doing over the years automatically to help keep my weight down. I don't exercise but I do try to walk places and go up stairs when I can. My food eating habits are what really changed. Here are a few suggestions:
Cut Out Dairy (or Cut Down): When I became vegan (basically I don't eat any animal products), I noticed that when I cut the dairy out of my diet the pounds dropped like crazy. There are amazing substitutes for dairy products. They take time getting used to but when you see how you look and feel it'll be hard to go back! If you can't quit dairy, cut down. It's amazing how dairy can pack on the pounds!
Eat High Cocoa Content Dark Chocolate: I eat chocolate every day. Usually 1 square, sometimes two. I get the expensive organic DARK stuff that has about 15 squares which last me almost two weeks. I find that after one of the really dark pieces, I don't want more as the high cocoa content helps my craving! Same goes for coffee, once you have a really strong cup it's unlikely you'll want 5 of them. Some companies have incredible fun chocolate bars like http://www.zazubean.com or http://www.dagobachocolate.com or http://www.greenandblacks.com/. I like Zazubean because they have one called Lunatic for women with herbs to help with PMS :)
Make Your Own Popcorn Bags: I started eating the 100 calorie prepackaged microwave popcorn (mini bags). I eat one in the evening as a snack. After realizing how much I was spending, I decided to make my own. Just put 2 Tbsp of kernels in a paper bag and pop in microwave for a little over a minute. Spray with a little low fat margarine and use nutritional yeast instead of salt to cut down on sodium and up your B vitamin intake!
Eat More During The Day And Less At Night: I got used to eating a lot in the morning and throughout the day but have a tiny meal at night followed my a small bag of popcorn for the evening munchies. I don't even think about it anymore, it's something I just do. If I eat too much at night I don't feel good. Listen to your body! :)
Eat Less: When going out to eat, ask if you can order from the kids menu. I find the portions are perfect. The adult meals in North American restaurants are way too big. If you're like me, you don't like wasting food so it's hard to leave anything on the plate even if it's too much. If you can't order from the kids menu, take a friend with you and share a meal together ... even more fun on a date! Wait 15 minutes after eating your meal to see if you are still up for dessert. Usually I end up being too full if I wait and barely ever eat dessert.
Eating right isn't only about losing weight but about overall health. Bad diet can also age a person! I am 38 and am constantly mistaken for a university student! YAY! So spoil yourself, no need for plastic surgery or expensive wrinkle creams. Food heals and makes us beautiful inside and out!
For some yummy vegan recipes:
Comments
May 31, 2008
0

found this helpful
I'm glad you have found something that works for you! Congratulations! We all struggle with our weight at some point in our lives. I was never overweight until I got in my fifties. Then, it seemed like nothing worked for me. The pounds kept piling on. I have finally started to lose weight, but not without help. I have always eaten low fat foods. This time, I'm eating low fat plus taking Alli.
I have a friend who works for Glaxo/Smith/Kline. She stands firmly behind all their products. After researching it online, I found everyone who posted was extremely pleased with Alli and had none of the terrible effects they warn against. I have been very pleased and have not had any of the side effects. The first week I lost 3 1/2 pounds and that was a big boost to get me started. I'm confident I'll reach my goal of thirty pounds. Go Alli!!
March 24, 2009
0

found this helpful
Thank you for sharing your important message. These are tips that I am surely going to be using. As far as the 'extra good' chocolate that you mentioned in your blog, there aren't any places listed here in Connecticut.
So, I'll be looking for something that is somewhat equal in my grocery store.
March 27, 2009
0

found this helpful
Thanks very much for sharing your info with us. I walk a mile every day & work in my raised bed garden, I have fresh veggies all the time & work in my flower beds also. Do what needs to be done in the house, all this helps with my weight. I stay slim all the time, good luck.
May 16, 2012
0

found this helpful
You forgot an important one - sleep! You need a minimum of 7 hours sleep to maintain your weight or lose weight.
When I was losing weight I found that some weeks I lost more than others even thought the food I ate and amount of exercise stayed the same. I started taking a look at every thing that might possible have an effect and I found that weeks where I got more sleep, I lost double or more weight that week. Started going to bed a little earlier and setting the alarm a little later and it made a big difference.
Now maintaining my loss and I find the same thing. If something happens and I don't get enough sleep, my weight starts to creep back up.
Read More Comments