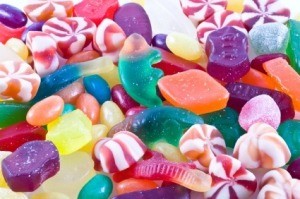 Save any non-chocolate Halloween candy left over from your hand-outs or collected from what your children have received and will not eat. Place it into a self-seal plastic bag and put it in the freezer to save for next year. I have done this for the past few years and when the season rolls around each October, I'm all set. I've never had to purchase another bag of candy.
By Marie from West Dundee, IL
Comments
Read More

Comments
Since Easter is over, the fun jelly beans were on sale. Can I freeze them for next Easter?

Answers
April 25, 2004
1

found this helpful
That's a good question. I have not tried it so I am not sure how they would survive the freezing process.
Here is very general info for freezing candy:
Freezing:
Candies Make as usual. Or, freeze commercially made candy. Package.
Using:
Thaw in wrappings at room temperature. Fat "bloom" which develops in chocolate candy during freezing should disappear. Cracks in brittle candies, chocolate-covered nuts and a few creams should disappear when candies are thawed.
Storage Length:
1 year?
I think they may become a bit graining when thawed. Maybe someone else has had some success with this.
By Homemaker (Guest Post)
April 26, 2004
1

found this helpful
Jelly beans would not last long enough in our house to see if they would freeze, but if no other thoughts come in, try freezing a few (25 or so) for a few weeks and take out and see what they are like. If they don't freeze, then you haven't lost much. I would wrap them airtight to be sure no moisture gets in. I have frozen candy canes before with success. Good luck!
By Linda (Guest Post)
April 26, 2004
1

found this helpful
Don't freeze-if there is the tiniest bit of moisture they'll get stuck together, colors will run. Just store unopened in a dry place and they'll keep. I found some in back of a cupboard from last year and they were as good as new.
By EMaryBelle Wrightnter your name. (Guest Post)
April 27, 2004
1

found this helpful
Jellybeans would not freeze well. Do you like to fish? Native Americans use an herb wiht a licorice flavor to fish. For Catfish use the black jellybeans. I do not know what to do with the rest of them.
By jodi (Guest Post)
June 4, 2004
1

found this helpful
Since I pack a little candy bag each nite with my husbands lunch I go the first day after each holiday an stock up on all kinds of candies...what a savings !
I bought a big plastic container an stock the candies in that (of course UNopened) I have had no problems what so ever..only when I forget to pack the little candy bag in the lunch.
By Gianni (Guest Post)
December 21, 2004
1

found this helpful
How long can you freeze candy canes for? I'm pretty sure you can freeze them but I need to know how long. Please if you know e-mail me at Gianni6@aol.com and put in the subject candy cane post. Thanks a lot!
October 31, 2017
0

found this helpful
We atayed at a campground where they were frozen for the year. When defrosted they were awful. They were so sticky, and melted in your hands leaving them sticky mess everywhere and staining your hands the color of the beans..
Frozen chocolate on the other hand freezes fine. Maybe because its wrapped. We use a vacuum sealing machone and so its double wrapped and protect if from breaking into a millions of pieces by putting those vacuum packed containers so that other things thrown in the freezer doesnt break it up.
I havent done it but some will chop candy and freeze it , using as needed for cookies or other desserts calling for chocolate chips
Answer

this Question
Can you freeze chocolate clusters (with peanuts) and freeze M and Ms? I have too much left over from Christmas; however, I am having a gathering on January 11 and will put them out at that time. I'm not sure above freezing them or if they would be OK just in the refrigerator or left out.
By Nickie
Answers
December 29, 2013
1

found this helpful
Go to Google & type in "freezing chocolate candy" or something about how & length of time you can store. Came up with this link as to freezing www.chocolate-candy-mall.com/how-long-can-you-freeze-candy.html but there are many others you really need to check out to be sure. Good luck & enjoy!
October 31, 2016
1

found this helpful
I always freeze M&M's from one year to the next. They're still fantastic. Just put them in a zip lock bag for freezing. I also do this for Andes chocolates.
Answer

this Question