Storing Coffee
Solutions
Share on ThriftyFunThis guide contains the following solutions. Have something to add? Please share your solution!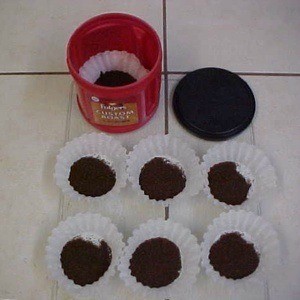 Save time by setting your weekly morning coffee up Sunday night. Just fill up seven coffee filters with your favorite grounds. Then stack the coffee filters on top of each other and place them inside an empty coffee can with a sealable lid. In the morning, just pull out a pre-filled filter, add water to your pot, and serve to taste.
By Carol L Craig from Spring Hill, FL
Comments
March 10, 2010
0

found this helpful
Top Comment
Great idea! My hubby makes the coffee every night after dinner. This way he will only have to put the water in! Thanks for the tip!
March 11, 2010
0

found this helpful
Top Comment
I used to do this when I worked in a convenience store. I'd use this same exact method to set up several days worth of coffee.
Made it so much easier and faster, especially when you've got impatient customers waiting!
March 11, 2010
0

found this helpful
Top Comment
Good idea to fill up the filters in advance. I usually set up the coffeemaker at night for the next morning. I fill it with coffee and water. All we have to do is stumble into the kitchen and turn it on.
March 26, 2010
0

found this helpful
Top Comment
We set ours up at night as well and we use the reusable coffee filter. It's a green world out there and we try to do our part. We also use the coffee grounds on the compost pile.
March 13, 2011
0

found this helpful
Top Comment
I do this as well, but unfortunately, we drink coffee all day, so we are actually setting up for just the next day. lol. That's ok though, it works. I also have an extra pot of water sitting next to my Bunn so that's ready as well.
December 4, 2016
0

found this helpful
Top Comment
Spreading the grounds on lawn is OK, but be careful with the compost, if you use it on tomatoes. It's too acidic for them and stunts them.
Now I just fling the grounds onto the lawn. If you let the used filter with grounds sit on a grate on the deck for a day, the grounds fly off clean and you can re-use the filter without washing and weakening it.
I drink a lot of coffee, and I'm fussy about how it tastes. I make one cup at a time. Coffee should taste the way it smells while brewing. Ten minutes after brewing, that bright, fresh taste had started to fade away.
There is a lot of controversy as to how coffee should be stored; shelf/refrigerator/freezer. I prefer to store mine in the refrigerator. I have found that exposure to air is the worst thing for causing ground coffee to lose its original fresh flavor.
If you buy large containers of coffee, and keep that coffee in its original container; every time you open the can, you are exposing all the coffee to air. The air degrades that fresh coffee flavor you paid so much for.
As soon as I open a large container of coffee, I transfer its contents to seven or eight smaller plastic containers with tight fitting lids. When I open that last small container, its contents are about as fresh as if I were opening the original can for the first time.
Now, here is something I discovered years, ago. No matter how good your favorite coffee might be, there are times when you don't really enjoy it so much, and I think I know why. I believe you become desensitized to the taste of your coffee, particularly if you drink a lot.
My solution is to keep two or three different coffees on hand; two or three that you really enjoy. Switch coffees occasionally. I think by doing so, you will appreciate each one even more. I know I do.
My best advice on storing coffee was shared, years ago, by someone employed with a coffee company. I grew up in north west Washington, if that gives you any idea of the fanatic I am about coffee. He told me that if you have to buy ground coffee, buy small amounts and use as quickly as possible. Freezing does not improve the coffee, nothing does, other than being stored tightly closed, in a cool, dark place, and, again, use quickly.
The best thing is to buy a coffee grinder, which is not expensive, considering the end result. The whole beans can be kept for much longer in the refrigerator, with very little loss of flavor. Some say you can freeze the whole beans. We don't, because we usually use a bag before it would be in any danger of losing it's quality. The coffee bean has oils in it, and once it sits a while the oils become a bit rancid, for lack of a better word, and the coffee suffers. I would say that ground coffee should be used within two or three weeks, if that. Whole bean can last, in the fridge, for that many months, or a bit more, for sure. Hope that helps.
By Loretta from Theodore, AL
After trying various methods for storing the large canister of coffee (more thrifty), I settled on freezing it. I noticed the aroma from the un-brewed coffee deteriorated with all the other methods.
Read More...
We recently bought a large bag of whole bean coffee at Costco. I used our blender to grind up all of the coffee, which was much quicker than our little coffee grinder.
Read More...
May 1, 2017
0

found this helpful
Fresh grounds make a better cup. Coffee lovers have their own ideas about the best way to keep their coffee fresh. This is a guide about keeping coffee fresh.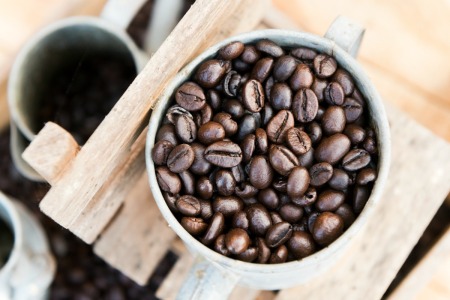 I store extra in the original container in the freezer. I have also used large ziploc bags.
Read More...
Keep your coffee in the fridge in a plastic container with a tight lid.
Read More...
Questions
Ask a QuestionHere are the questions asked by community members. Read on to see the answers provided by the ThriftyFun community or ask a new question.
What is the best way to store coffee (both for unground beans and for already ground)? My DH and I don't drink it up very fast, and I've heard keep it in the freezer; I've heard keep it in the refrigerator; I've heard oh, no, don't do either of those, that'll dry it out, just keep it in an airtight container.
Lynn from Calif. from Chico, CA
Answers
November 8, 2005
0

found this helpful
Hi Lynn,
Light, air and moisture make coffee go stale. That is true whether it is whole bean or ground. Whole beans though last longer than ground coffee. If you want it to taste fresh, keep only the amount of whole beans you will drink within a week at room temperature and make sure it is in an airtight container.
Once coffee is ground it goes stale very quickly. If you want to store it for a long time, buy the unground kind. But if it is already ground, store it in an airtight container in the freezer.
If you drink it rarely, put it in the freezer but make sure that it is double wrapped so that it won't pick up any smells from the freezer. Frozen coffee will last up to a year if you have a good freezer.
If you buy the coffee in the airtight bags or cans rather than from the bins, you may get the freshest coffee. They seal it right after it is roasted.
Susan from ThriftyFun
November 8, 2005
0

found this helpful
I put the ground coffee in pint or quart ZipLoc bags and squeeze air out and store in the freezer with great success. I keep a 2 cup ZipLoc plastic container in the refrigerator and refill it as needed, usually every 8 days with the coffee from the freezer.
JoanDogs
By Jennifer,CA (Guest Post)
November 8, 2005
0

found this helpful
I have several friends that have worked at Coffee stores...Peet's and Starbuck's. They recommend not refrigerating nor freezing. Best to be in a sealed tight container in the dark pantry. I was told it will loose it's taste when in the refrig or freezer. I drink it up fast so I wouldn't know. I only put mine in the pantry both whole bean and grinded.
Answer

this Question

...
Related Content