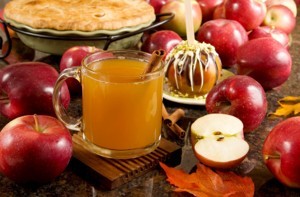 Description:
As the old saying says "an apple a day keeps the doctor away!" This saying isn't far from the truth, apples have many health benefits. Apples have powerful antioxidants and are helpful in controlling blood sugar levels and cholesterol due to the pectin content. Apples originated from Central Asia and are still found there today. Apples were brought to North America in the 1600s by colonists. The first apple orchard was planted near Boston. Washington State is now the leading apple producer in the U.S.
Uses:
Apples can be eaten many ways, baked, pureed, juiced, in desserts and even in some soups such as mulligatawny. It is best to eat apple with the skin because you will get more fiber and the highest levels of vitamin C is just under the skin. Often they are used in winter desserts such as apple pie, apple crisp or candied apples.
Recipes:
Buying Fresh:
When choosing an apple you want press to check for firmness. Choose apples that smell fresh.
Preparation:
Apples are among the highest in pesticides among the fruits, be sure to wash throughly even if you plan to peel them.
Storage:
Apples can be stored for 2 weeks in the refrigerator or cool place. Apples can also be dried, frozen or canned.
Interesting Facts:
One of the first antidepressant prescriptions was apple juice. There are 7500 apple varieties in the world. Dried apples have been found as far back as the stone age.