Caring For Goldfish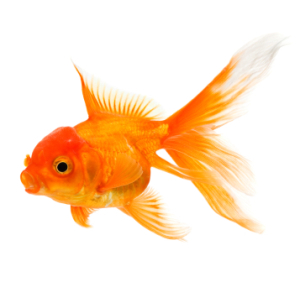 Recently a friend gave me two large gold fish they didn't want anymore. The one kept swimming belly-up (upside down). I was told it was a sign she was going to die soon. I couldn't take it watching her struggle! What it is, is a sign of infection and it affects their balance and buoyancy. It can't be cured.
But, I remembered an old, old remedy! I did it and it worked! I gave her early sweet peas. I smushed them between my fingers and put them in the tank. She ate them and after 1 hour she was swimming right side up like nothing. So, each day I feed her the smushed peas towards evening. In the morning she gets her regular fish food. Now, she swims with grace and beauty!
Remember it is not a cure, because there is no known cure for this.
By LilHoneyBrat
Response to Question:
I used sweet peas from a can. You have to mush them up. But, you can't use a lot maybe 7-8 peas only. But, I did forget to mention this also means you have to clean your tank more often. JJ
Read More

Comments
More Solutions
Share on ThriftyFunThis page contains the following solutions. Have something to add? Please share your solution!
I keep an old turkey baster next to my little fish bowl. Every few days I will use it to suck out some water and the dirts accumulated on the bottom of the tank and feed my plants.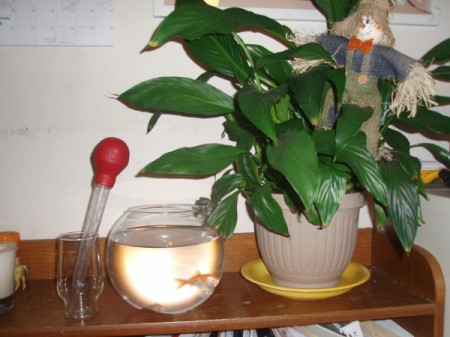 Read More...
My 2 year old loves fish so we set up a 10 gallon tank that we had found on the street and went to the pet store.
Read More...
10 Questions
Ask a QuestionHere are the questions asked by community members. Read on to see the answers provided by the ThriftyFun community or ask a new question.
Can anyone enlighten me as to whether there is a cure for dropsy in a pond goldfish, it has not gotten to the stage of the scales lifting as yet.
Answers
September 18, 2019
0

found this helpful
Best Answer
Oh, this is a sad situation and from experience I know that it is painful to watch these babies going through this ordeal so I hope you can save this one.
There is a lot of information floating around but please be sure when you move the baby to new water that everything is correct before the transfer.
If the new water is tap water be sure it is treated and has no chlorine or other unwanted parts. Many people say to not use tap water but that may be all you have. You may have had to treat the water before.
Be very sure the temperature is correct and this takes several hours if done properly.
Please use ONLY Epsom Salt as regular salt may kill your fish.
The following link has excellent step by step instructions and each one is important.
I sincerely hope your little goldfish survives this ordeal.
September 18, 2019
0

found this helpful
Best Answer
This is very challenging when the fish are in a pond.
Is it a small home made pond that you can drain and clean or is this a real pond (like a natural one)?
Either way the only chance is to get the fish out of the pond and into a controlled water situation and get them into a treatment with an anti parasite medicine and an antibiotic for the possible bacterial infection. You will need either a vet that knows fish or a pet store that where they specialize in fish to give you the correct dose for the size and type of coy/goldfish.
If it is a homemade pond, ask the vet/pet store how to clean it so that someday it could be livable again.
In a natural pond, you most likely are just not going to be able have fish in it again without risk.
Post back with an update. Prayers!
September 18, 2019
0

found this helpful
Best Answer
There are several reasons for dropsy and it is possible your pond is not the cause of the dropsy but if goldfish are in a pond they tend to get much larger so if you have a large goldfish I hope you can find a container to place him in as that may be the only way to save the goldfish.
I hope you have figured out a way because time is of the essence with a situation like this.
Also, I mentioned about using regular table salt and others are saying it is okay but I had a bad experience with salt but I could have used it incorrectly but I have never had a problem with Epsom Salt.
September 29, 2019
0

found this helpful
Best Answer
First off the pond needs to be treated and the water will need to be changed. The fish need to be moved out of the pond that are sick and put in another bowl while they are being treated. I have always used sea salt when teating my gold fish. I raised gold fish for years and once a week I would sprinkle rock salt or sea salt that is in the rock form in the pond. This did keep ut a lot of the infections gold fish can get. This is an excellent vidoe on the treatment of dropsy. www.youtube.com/watch?v=o4DlkelMiuo
Answer

this Question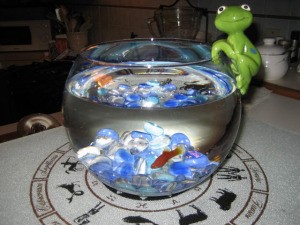 I bought my grandson "a" as in one, goldfish from Walmart the day before Easter (as in end of April). Now it has had its 2nd load of babies. 4wks ago it had 10 and now on July 4th we found 16 new ones. My grandson is now in love with his 26 babies. How is she doing this on her own? Will she keep doing it? The fish's name is Easter Fish. Thanks.
By Barb
Answers
July 9, 2011
0

found this helpful
She apparently came pregnant; and has since enjoyed some "hanky panky" with one of her offspring. She looks more like some sort of guppy to me, and they're prolific breeders. She will continue to produce babies as long as she potentially has contact with male fish.
July 9, 2011
0

found this helpful
By the way, she looks more like a molly than a goldfish; she is pretty! Their life span is about 2 years.
July 10, 2011
0

found this helpful
Well, if they keep having babies, and you decide you don't want them all you should donate them to an animal fundraiser for prizes or even a locally owned pet store.
July 10, 2011
0

found this helpful
This looks like a Sunset Platy to me. Both Platies and Mollie are live bearers and are often pregnant when you get them from the pet store. Females can hold sperm for 6-8 months before giving birth. They tend to have them in several small litters to increase the chances of the babies surviving.
Mollies and paties are both great fish, but they will eat their own young. If you want any of the babies to survive (and keep your grandson happy), you'll need to move the mother to a different home or provide a lot of plants and such for the babies to hide in. Mollies should also really be in a larger tank (1 gallon per inch of fish) and have a filter and have heat and air sources. You can usually buy a basic 10 gallon setup fairly cheap, or even better, ask around. A lot of people have the basics sitting around in their garage or attic.
Here's a good link with more information: www.tetra-fish.com/.../showthread.php?t=1696
July 11, 2011
0

found this helpful
The photograph you posted is of a swordtail or molly, and not a goldfish. Both of these give birth to young ones directly. Goldfish lay eggs which may or may not mature into young ones in an aquarium. But this only if the fish is already pregnant.
July 11, 2011
0

found this helpful
It's hard to tell in the photo because you can't see the details of the tail fin but if that is a goldfish it's a Comet Goldfish. If the tail fin is shaped more like a fan (slightly round out) it's probably a platy but if the tail fin looks like an indented V it's a comet. In any event, if it keeps having babies you can also talk to the pet store to see if they will take them and possibly for a little cash or in exchange for some fish food. ;-)
Read More

Answers
I just won five fish at a carnival yesterday. They are all kinds of different sizes and colours of gold fish. I don't know what to feed them because I don't have the time or the money to go out and get fish food. I also don't know what I'm going to do because I'm worried that some of the bigger fish will get aggressive and take the smaller fishes' food and then the smaller fish won't get any food.
What should I do?
Read More

Answers
Tips for caring for goldfish. Post your tips.

Answers
August 17, 2005
0

found this helpful
Caring for Goldfish
We found an old plastic organizer drawer that we keep a 24 cent goldfish in. We vacuum out the tank with an old pancake syrup bottle by squeezing it while it is empty and making it vacuum up all the debris and waste that accumulates in the tank.
We change the water about 40 percent each day and vaccuum all the time with the syrup bottle.
We feed the little fish squash, the bugs that fall in the "pond" at night, and vegetables we have cooked that evening.
They dont need to be overfed. Ours eats a lot of bugs judging by the waste it creates in the water.
The fish recognizes me when I come to vacuum out the little pond he lives in, he darts back and forth with glee. It is so cute.
I won't feed the fish commercial flakes because it seems to constipate the fish and make them ill.
By Racer
August 30, 2005
0

found this helpful
you don't need to clean every day. do it once a week or less. You must be over feeding to need to clean that much. just a pinch once a day. goldfish are piggie little fish and will eat whenever you offer food. they do not need to eat so much and most goes to the bottom. I have never heard of feeding like you do, but "if it ain't broke don't fix it" as they say. I like the idea you use for a tank vacuum. I never have a problem with my bigger tank but the bowl I keep my betta in is a pain to clean, even with a filter. I will try your idea with the small syrup bottle or something like it to vacuum.
By Savannah (Guest Post)
September 5, 2005
0

found this helpful
Hey i have a goldfish and his tail is stuck together causing his balance to be off. both partsof his tail are there they are just next to each other instead of one on top and onw on bottom. i have never seen this happen before. Does anyone know what i should do?
By sweatting (Guest Post)
August 31, 2008
0

found this helpful
Do goldfish eat their young? How long do they stay pregnant?
Answer

this Question
It rained and our new black mulch leaked into our goldfish pond and turned the water black. How do we fix it to make it clear again?
Please help!
Read More

Answers
This is a page about what can I feed a goldfish other than fish food? Regular goldfish food is best for a fish in a bowl or tank.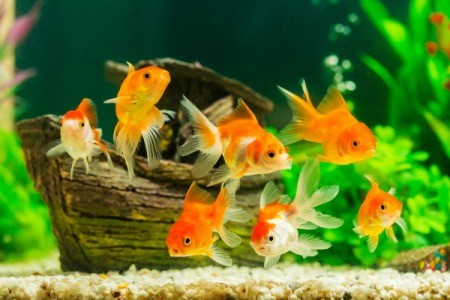 This is a page about keeping track of fish feeding. Fish will often eat as much as you feed them so it is important for the fish, and the health of your tank, to not overfeed them.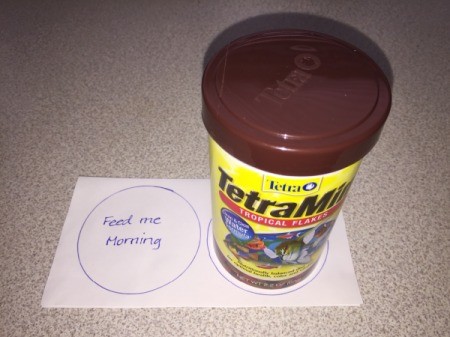 Published by ThriftyFun.
© 1997-2021 by Cumuli, Inc. All Rights Reserved.
https://www.thriftyfun.com/tf/Pets/Fish/Caring-For-Goldfish.html