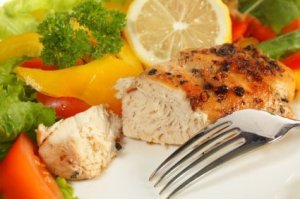 This chicken and cream sauce is wonderful served over a bed of basmati rice that has been cooked in chicken broth with a splash of lemon juice added, or over buttered egg noodles.
Ingredients:
1/2 cup all purpose flour
1 Tbsp. all purpose flour
1/2 tsp. salt
1/2 tsp. pepper
3 boneless skinless chicken breast halves
1/4 cup butter
1 cup chicken broth
3/4 cup heavy whipping cream + 1/4 cup heavy whipping cream
1/4 cup lemon juice
Directions:
Combine the 1/2 cup of flour, salt, and pepper in a medium bowl; add chicken and coat well.
Melt butter in a large skillet over medium/medium-high heat and cook the chicken for 8 to 9 minutes on each side or until juices run clear. Remove chicken and keep warm.
Add broth to the drippings. Bring to a boil over medium heat and stir, loosening browned bits from pan. Simmer, uncovered for 10 minutes or until broth is reduced to 1/3 cup. Stir in the 3/4 cup cream and lemon juice and cook over medium low heat for 5 minutes.
Stir in the remaining flour and 1/4 cup cream in the skillet until smooth and bring to a boil. Cook 2 minutes, stirring, or until thickened. Return chicken to the skillet, heat through and serve.
By Deeli from Richland, WA
Does anyone have a recipe for Lemon Chicken where the lemon sauce tastes like Lemon Meringue pie? There was a Chinese restaurant here that use to serve it, and it was delicious.
Donna from Greensburg, IN
Answers
By Gloria (Guest Post)
August 29, 2007
0

found this helpful
Hi, that sounds great. What about using the lemon meringue pie recipe using a little less sugar and corn starch.
August 29, 2007
0

found this helpful
I have searched every chicken recipe known to cookbooks there is only lemon chicken recipe that I can find in the cookbook Not Just beans and Cooking for Joy. You will have to go to that restaurant and ask the cook/chef for the recipe. He must have made it up, and it was edible, so they served it, or she. I do hope others can help you as I wasn't that helpful sorry, but you can look up those two cookbooks for lemon chicken breast recipe. It is really good.
By Robin (Guest Post)
August 29, 2007
0

found this helpful
This sounds close:
Lemon Chicken (Adapted from Chinese Cookery by Rose Cheng and Michele Morris)
Marinade
1 tsp salt
4 tsp rice wine or dry sherry, (I've also used rice wine vinegar)
2 tsp soy sauce
1 egg yolk
Freshly grated pepper
Lemon sauce
1/4 cup sugar
1/4 cup chicken broth
2 T water
1/2 tsp salt
1 T cornstarch
1 tsp sesame oil
1/4 cup freshly squeezed lemon juice
Zest of 1 lemon
Coating
6 T cornstarch
2 T all purpose flour
1 lb skinned, boned chicken breasts, cut into strips
Combine chicken and marinade in a medium bowl and mix well. Cover and let stand 30 minutes.
Combine the ingredients of the lemon sauce in a small saucepan. Bring to a boil, stirring occasionally and more often when nearing the boiling point. Once sauce has thickened, remove from the heat and cover.
Mix together the flour and cornstarch for the chicken coating and pour it into a clean plastic bag. After the chicken has been marinating for 30 minutes remove the pieces of chicken from the bowl and place them in a plastic bag with the flour and cornstarch. Gather the top closed and shake the bag to coat the chicken strips.
Heat enough oil to coat the bottom of a large heavy bottomed saucepan over medium high heat and then drop in the coated chicken strips. They will only take a couple minutes to cook and you should flip them over half way through. Remove the chicken from the oil and drain on a paper towel.
Once you have cooked all of the chicken, transfer it to a serving bowl and coat with the lemon sauce. Serve over rice with any extra lemon sauce poured on top. Toasted sesame seeds and lemon slices are optional garnishes.
August 29, 2007
0

found this helpful
Use Jello Lemon Pudding and Pie Filling mix and add the juice of one lemon. Thin it out a little.
OR use Yoplait Lemon Meringue Yoghurt.
PLUS ask the chef.
I am an Executive Chef. I subcontract EVERYTHING. lol
August 30, 2007
0

found this helpful
The recipe is for Lemon Chicken and you can find it on
http://www.CDkitchen.com
It is just what you find in the Chinese restaurants. Good Luck.
By Joyce (Guest Post)
August 30, 2007
0

found this helpful
Recipe
Deep-Fried Lemon Chicken
Crispy Chunks of Chicken in Sweet Lemon Sauce
Serves 2-3
2 bell peppers, (1 green and 1 red)
1 lb
(500 g) boneless chicken breast
BATTER
1/2 cup
(50 g) flour
1/4 cup
(40 g) cornstarch
1/2 tsp
(2.5 ml) double-acting baking powder
1/4 tsp
(1 ml) salt
1/2 tsp
(2.5 ml) vegetable oil
SAUCE
1 lemon
3 Tbsp
(40 g) sugar
1/2 cup
(12 cl) water
1 tsp
(5 ml) cornstarch
2 tsp
(10 ml) water
sprigs of parsley
1
Wash and seed the peppers. Cut each one into strips 2 x 1/4 inches (5 cm x 5 mm)
2
Cut the boneless chicken breast into strips 3 x 1/2 inches (1 x 8 cm)
3
Prepare the batter by mixing in a bowl the flour, cornstarch, baking powder, salt, water, and oil. Stir until smooth.
4
Cut half of the lemon into thin semicircular slices. Prepare the lemon sauce by squeezing the juice from the other half of the lemon and combining in a cup with the sugar and water. Stir well.
5
Combine 1 tsp (5 ml) cornstarch and 2 tsp (10 ml) water in a second cup. This mixture will be used later to thicken the lemon sauce.
6
Dip each piece of chicken in the batter and let the excess drip back into the bowl.
7
Deep fry the chicken in small batches. It is best to use an electric deep fryer, but if this is not available, heat 1 quart (1 liter) of vegetable oil in a wok or deep pan until it is very hot. Then add about 5 pieces of chicken at a time to the oil and cook, covered, for about 5 minutes or until a golden brown crust forms. Check once a minute to see if the pieces are sticking together, and if so, separate them. After each batch is finished, set aside on a paper towel to drain off the excess oil.
8
Cook the lemon sauce by pouring the lemon-sugar mixture into a saucepan and bring to a boil. Add the cornstarch-water mixture and stir until thickened.
9
To please the eye as well as the palate, mix up the chicken and colored pepper pieces and pile on a plate. Top with sprigs of parsley and place the lemon slices around the outside of the plate. Put the hot lemon sauce in a cup so that people can pour it over their chicken just before eating, to keep it crispy.
Serve with rice. Don't forget to start the rice so that it will be done at the same time as the chicken.
A nice-looking dish for company. The deep-fried chicken pieces can also be served as party snacks instead of junk food.
RATING
Difficulty: With an electric deep fryer, easy; without one, moderate.
Time: 45 minutes.
Precision: Measure the batter ingredients.
August 30, 2007
0

found this helpful
Hi. Thanks for all the help! I will have to try some of these and see which is closest. I can't go back to that restaurant and ask for a recipe because it is long gone, replaced by a big Chinese buffet. Besides, I think that there is a possibility that the restaurant used a packaged mix brought by a supply truck. But some of these recipes sound like they might work. Donna
Answer

this Question