This is a question that is often asked and debated. Not all generic brands are created equal and not all name brands stand up to the hype. Share which generic brands you use and which name brands you can't live without.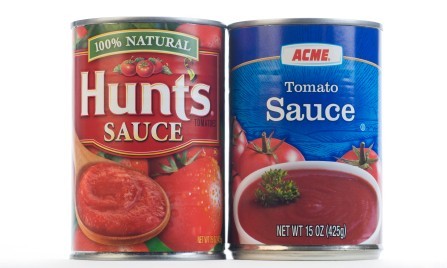 Add your voice! Click below to answer. ThriftyFun is powered by your wisdom!
Add your voice! Click below to answer. ThriftyFun is powered by your wisdom!

These days there is a generic brand for nearly everything, from pharmaceutical drugs to shampoo. These are not the generics of generations ago. In fact, these brands are just as good or better than national brands and often contain the exact same active ingredients. This can save you anywhere from 10 to 50 percent every time you shop.
To maximize your savings, never buy non-food items like batteries, medicine, and cleaning products at the supermarket, go to one of the dollar stores to do that. While you are at the dollar store, walk through their grocery isles and check out what they have to offer. You might find some amazing saving there, that you would not expect to see.
By Faylee from Kingsport, TN
Comments

May 4, 2011
0

found this helpful
I buy from the dollar store all the time, but I would beg to differ on the advice to buy batteries or medications-something I never buy there.
The batteries-in my experience they tended to not last as long & we had a problem with them leaking. Apparently this is a common problem, as a quick google search turns up the same recommendations.Not only that, they say that batteries & extension cords could have fake UL labels & be dangerous.
Medications - If it's a known brand name, it MIGHT be safe,if it's not expired. But you have to check expiration dates. There have been reports over the years about various problems with medications found in the dollar stores. Consumer Reports did a study & found that the vitamins either did NOT contain alll the supplements listed, or the coating didn't dissolve sufficiently to be absorbed into the body,making them useless. I've also read over the years that another problem with medications from the dollar store could be that they are expired. And even more importantly, there were problems a few years ago with medications found in dollar stores, that were made in other countries that did not have our standards & had potentially toxic substances in them. I definately remember the toothpaste saga a few years ago, where they found many toothpastes at the dollar store were made in other countries & had the same ingredient as ANTIFREEZE in them!
And just because it may be a name brand with a good expiration date doesn't make it safe, we found this out with the toothpaste scandal. You have to check the label & see where the product is made. It has become known that some of these name brand manufacturers have their products made in other countries, to market in other countries (especially poor, 3rd world countries) & they were not the same as the stuff you find here in the US. Some of them had ingredients considered unsafe by our country & were considered dangerous. It was quite a scandal several years ago to find out that some of these big drug companies were taking drugs that had been banned in the US for causing birth defects & marketing them to poor countries, so they wouldn't lose money on drugs they could no longer sell in the US or bigger countries with higher standards.
As for food, I do buy food at the dollar stores, there are thing my family loves. But I can also say that I recall many years ago at least 10 years) reading reports about some of the canned fruit(that I had bought for my kids!) from a big name dollar store, that had been canned in another country & it was found that the cans that were used were leaching LEAD into the fruit!!
Just remember when you buy medications or food, this is something you are putting in your families bodies that could have potentially bad effects. Read the label carefully to be sure you know what you are getting & think twice about buying items with odd name labels made in other countries.

Teresa Tart
Bronze Feedback Medal for All Time! 213 Feedbacks
May 8, 2011
0

found this helpful
I hope you all know that everything the dollar store sales comes from china. That means all your money goes to help that country and nothing for you country. If we all don't start watching what we buy, the US will become the poorest country. I don't shop at the dollar store and if I go into Walmart or another store I check to see where it was made.
Then I decide do I really need it or do I just want it. I have saved a lot of money this way also. We have to thank about our children and grandchildren so please buy American. It may cost a little more but your family will benefit from it.If you are crafty you can think of another way around what you wanted from the dollar store.

August 27, 2013
0

found this helpful
Ouch! These are pretty harsh feedbacks. I just want to offer my 2 cents - it is very difficult to buy American now-a-days. Most of our computers come from another country now, but I won't go without mine. That is just an example. My husband always buys cheap batteries, and they seem to be as good as the expensive ones.