May 13, 2011
1

found this helpful
I use seven dust. It's what you use in a garden to keep bugs away. I sprinkle it on my dogs. You can also sprinkle it in your yard and on the floor in your house. Leave on for ten minutes and vacuum it up, it wont hurt the kids. My grandaughter plays with the dogs after they have been treated and it hasn't harmed her.
May 12, 2017
0

found this helpful
Please dont use any more of this
It's highly
Toxic long term effects
May 25, 2015
2

found this helpful
Sevin Dust contains highly toxic Carbaryl toxic and dangerous to pets.
In fact, though carbaryl was first approved for use in 1959, it's never been brought into compliance with modern safety standards, according to Toxic Tradeoff, a recent report on carbaryl by the Washington Toxics Coalition. As early as 1969, a U.S. government report called for restricting carbaryl after it was found to cause birth defects in test dogs. Carbaryl is also highly toxic to bees and has been linked to immune-system cancer in farmers and brain cancer in children.
May 25, 2015
0

found this helpful
I would not recommend Sevin for this purpose, because it is toxic, and you definitely shouldn't be breathing it (like you would when you were vacuuming it up).
We treat our dog with Frontline every month. We dust the yard with sulphur using a spreader set on "fine" a couple of times a summer - this really helps repel ticks. Yes it does smell a little right when you first do it.
For ourselves, we take a garlic capsule every morning (the "no-smell" variety), and when we are going into the woods we spray our feet, legs and ankles with a DEET repellent.
We rarely get ticks, but we still make it a policy to check every night throughout the summer and fall just before showering.
I can understand your concern with Lymes. A neighbor of ours has a child (14 now), who has had it for the past 4 years. Her health has been devastated, and she misses school most of the year. In a neighboring town, a 16-year-old died of it last year.
We should all be so careful to check our children and ourselves every night for ticks!
One more thing about Sevin... it is widely suspicioned that these kind of chemicals are at least part of the cause of bee populations being so decimated these past few years. Please if you must use this stuff, use it judiciously, and only as a last resort.
May 25, 2015
0

found this helpful
I am a believer in Avon Skin So Soft Bath Oil. Ticks do not like it. I buy it in the large container and refill my little spray container with it.
During the summer months, I spray a little in my hand and rub it on my legs, arms and around my waist every morning. I'm in the grass and bushes a lot and have no problem with ticks.
A little goes a long ways. It not only keeps the ticks away, it's good for your skin.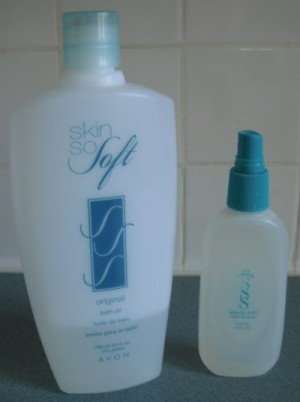 February 2, 2016
0

found this helpful
Read snopes.com to see the documented, scientific research on home remedies such as Skin So Soft. Snopes.com is a great source for answering correctly other "Urban Myths".